Centre de radio-oncologie régional at the Hôpital de Rouyn-Noranda
Context
A new cancer center will be built on the site of Rouyn-Noranda Hospital. It will widen the range of locally-available care and improve patients' treatment conditions. The firm started participating in the development of cancer centers in the early 2000's and has built seven major projects since. The conception and implementation of this type of center has become a main area of expertise for the firm, who is recognized as the best in Quebec.
Location

Partners

TRAME Architecture + Paysage
Scale

3 085 m² / 26 M$

Completion

2018 — 2021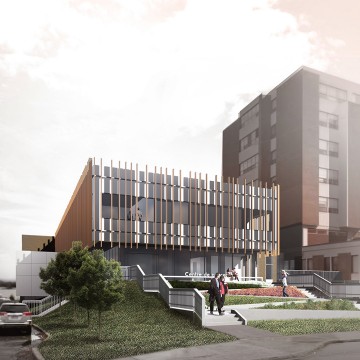 The cancer center spans over three floors and is linked to the existing hospital on the first floor and underground floor. The program includes reception and waiting areas, consultation and examination rooms, spaces for medical physics and onco-hematology, a pharmacy, a clinical administrative area and support facilities. The entrance dedicated to the center will have a drop-off area on the street while inter-hospitals transfers will happen at the back of the building, through the existing parking lot. The building's position takes future developments into account, such as the potential addition of a third radio-oncology vault. It was also planned so that the center would not be too close to the lake, in order to maintain existing parking spaces and to preserve lake views for residents of Chemin Tremoy.
Several criteria dear to our practice were integrated in the architectural solution : provide a humane environment, welcoming and warm; maximize natural light in public and circulation spaces as well as in waiting and care areas; make wayfinding easy by aligning main circulations on all floors; integrate the building in its environment and give it a human scale; work the volume and the openings on Chemin Trémoy to have a scale that fits the residential nature of the neighborhood.