Raymond-Barcelo Dialysis Centre of the Hôpital Maisonneuve-Rosemont
Context
the Raymond-Barcelo Integrated Dialysis Center, the largest center of its kind in Quebec, was inaugurated in June 2019. This important addition of 7000 m² will allow to treat 70 patients simultaneously while providing an environment conducive to well-being.
Scale

7 022 m² / 32 M$

Completion

2014 — 2019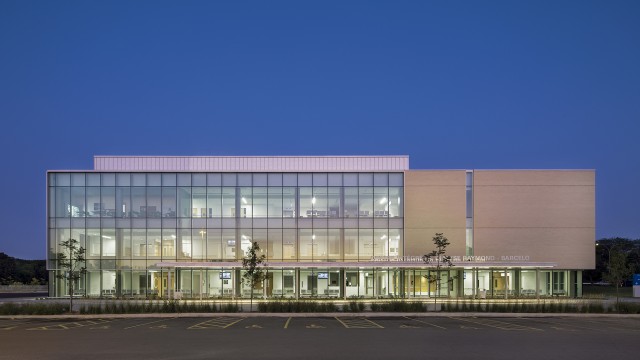 © Adrien Williams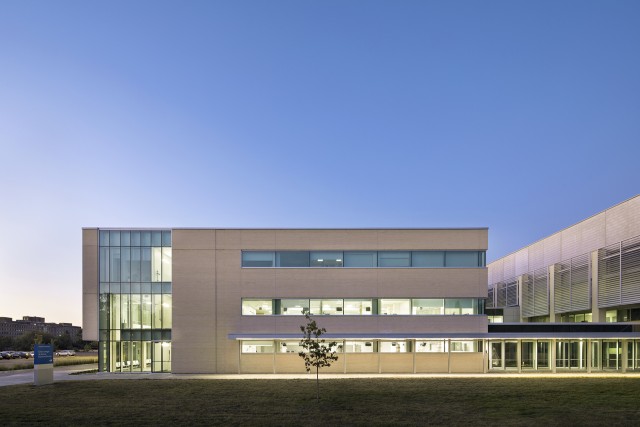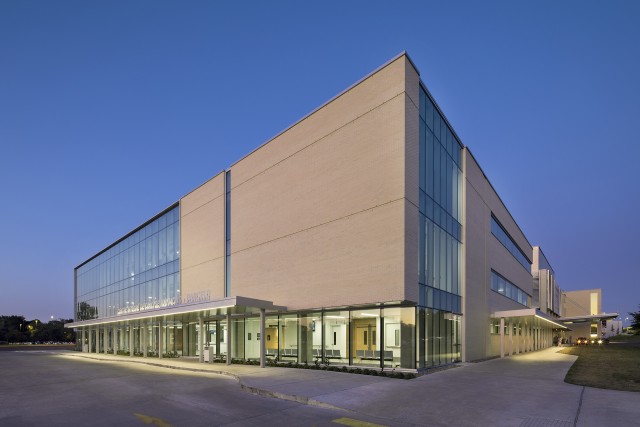 © Adrien Williams
« L'Hôpital Maisonneuve-Rosemont est devenu au fil du temps un leader mondial en matière de néphrologie, d'insuffisance rénale et d'hémodialyse, alors je suis contente que les patients aient une vue exceptionnelle, de la clarté, de la lumière.
C'est beaucoup de temps à passer pour un patient (les patients reçoivent trois traitements d'hémodialyse par semaine et chacune de ces visites dure environ quatre heures), alors d'avoir un environnement agréable c'est bon pour sa santé. C'est bon pour le moral, c'est bon pour la santé mentale et c'est bon pour le personnel aussi. »
(En conférence de presse, extrait de Le Devoir)
―Danielle McCann
Ministre de la Santé et des Services sociaux
© Adrien Williams
This major expansion at the Maisonneuve-Rosemont Hospital was designed in conjunction with the Ambulatory Care Center (ASC) and allows for the consolidation of all hemodialysis-related activities of the facility into one ward, thereby optimizing functioning of the renal replacement unit. It includes treatment areas, pre-dialysis clinics, continuous ambulatory peritoneal dialysis (DPAC) and home dialysis clinics (4 mobile units), as well as administrative areas.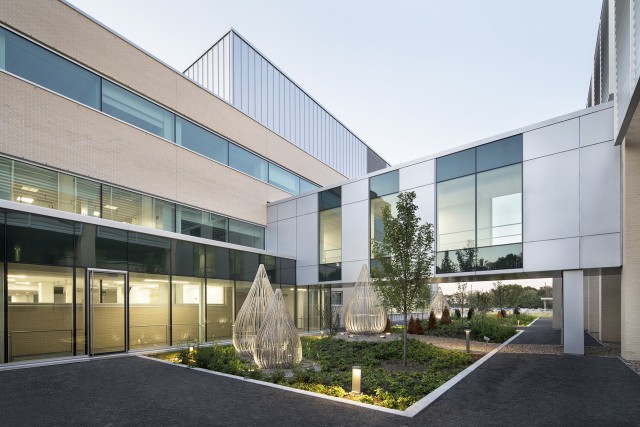 © Adrien Williams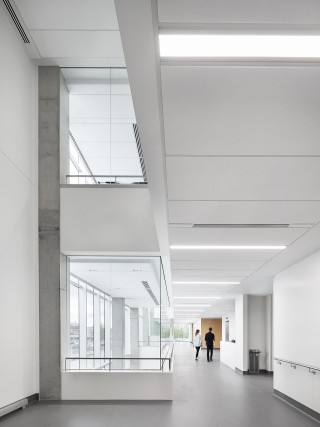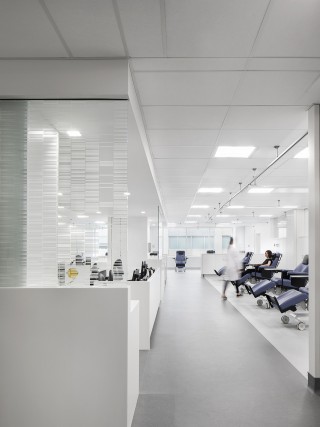 © Adrien Williams
The treatment areas are oriented towards an intimate therapeutic garden, created between the new pavilion and the existing outpatient center. Patients will receive dialysis treatments that can last up to 4 hours in an environment conducive to well-being, bathed in natural light. Reception and waiting areas have been placed on the periphery of the floor areas, thus facilitating the orientation of patients and the travel distances of this mobility impaired clientele.
The problems of congestion of vehicular and pedestrian traffic in front of the main entrance were also studied and resolved by the creation of a landing dedicated to dialysis.
© Adrien Williams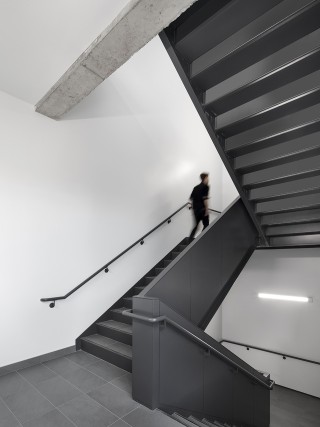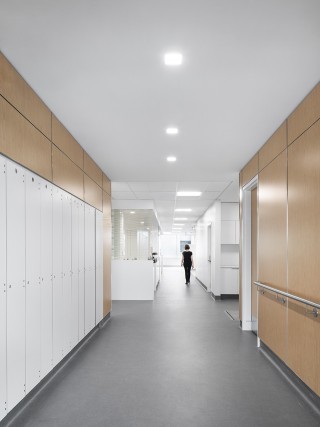 © Adrien Williams
The plans were developed in BIM on REVIT to ensure a daily control of areas and costs, in addition to a closer technical coordination with the plans of engineers and other consultants.
The design, the production of the plans and specifications and the supervision of the works are entirely realized by Jodoin Lamarre Pratte architectes. The firm has been working at the Hôpital Maisonneuve-Rosemont for more than 10 years and its achievements include the Center of Excellence in Cell Therapy and the major expansion of the Radiation Oncology Center.