Regional integrated Cancer Center at the Hôtel-Dieu de Lévis
Context
This new centre, built on the site of Hotel-Dieu de Lévis, hosts six teletherapy rooms and twenty-one chemotherapy treatment areas. A new suite for a positron emission tomograph (PET scan) was also built on top of the existing Emergency department and linked to the integrated cancer center. Beyond meeting complex functional and technical demands, the project stands out for providing ample natural lighting, namely through a large inner courtyard and skylights. The many outdoor views also facilitate orientation. The Centre's reception areas and waiting and care rooms are designed to allow patients to undergo their treatment with dignity and in comfort, including on the underground levels reaching more than 10 meters below the ground.
Location

Partners

GLCRM
DMG
Scale

13 140 m² / 65 M$

Completion

2014 — 2019
The building program is spread over three levels with a total gross area of 12,579 m². Teletherapy rooms, a brachytherapy room, a magnetic resonance room, treatment planning rooms, and simulation rooms are planned for the 2nd basement. A clinical-administrative area, teaching rooms for clients, and electrical and mechanical rooms are in the 1st basement. A chemotherapy area, a clinical consultation space, and the main reception area are on the ground floor. Waiting and instructional spaces are spread over three levels for an optimal distribution of clients and staff members. A central courtyard, roof garden, and skylight have been developed to allow an abundant supply of natural light inside the building, including the basement levels, and to create a visual link across the different floors. The project also includes the extension of an existing underground tunnel to allow for a connection from the existing hospital to the new pavilion.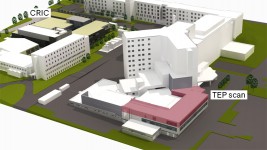 The PET-scan suite was the first milestone of the expansion of the Emergency building. On a gross surface area of 901 m², all the main functions—a reception area, a preparation and interview area, an injection area, a PET examination room, and a clinical-administrative area—are constructed as part of the roof expansion of the Emergency building. Its structure allows for the eventual addition of floors to connect the Pavilion St-Joseph to each floor of the expanded Emergency building, which will eventually have five floors in total.