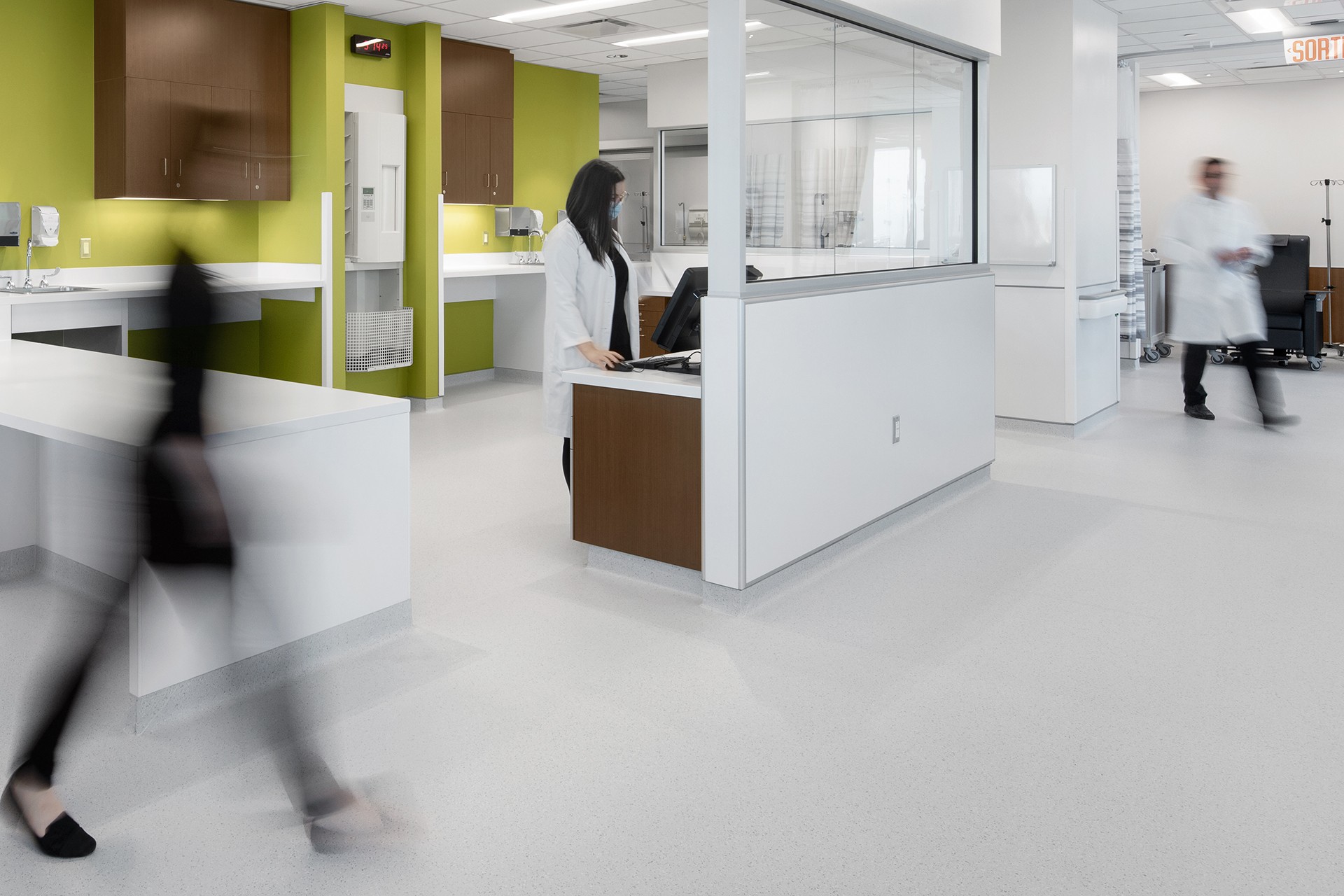 Four major mandates in the field of healthcare and a new elementary school in Sainte-Marthe-sur-le-Lac
September 9th 2021
Modernization of the Fleury Hospital emergency room
Jodoin Lamarre Pratte architects was recently awarded the mandate to design the expansion and remodeling of the Fleury Hospital emergency department. The estimated cost of the work is $52 million, which consists of tripling the gross surface area of the department from 1,075 m² to approximately 3,300 m² by expanding the A wing and demolishing the E wing. The space will be reconfigured to meet current needs, including the prevention of hospital-acquired infections, ensure confidentiality and provide a bright and pleasant care environment.
The firm completed the last major expansion of Fleury Hospital, which opened in 1994.



Functional program and "dossier d'opportunité" for the new Outaouais hospital
Under the direction of CIM Conseil —and in collaboration with Lemay, WSP and Bouthillette Parizeau— our team has obtained the mandate to develop the functional program and the "dossier d'opportunité" for a new hospital in the Outaouais region of 150,000 m² and whose construction costs are estimated at $1.54 billion. The new regional university-affiliated hospital will have 600 beds, an emergency room with a capacity of 67 stretchers and a 19 operating rooms.



Building analysis for the modernization of the Saint-Eustache hospital
We are also working, with Provencher Roy, on the building analysis for the modernization of the emergency room, the care units and the mental health intervention unit of the Saint-Eustache hospital. In order to meet the needs related to significant demographic growth, 40 acute-care beds, a second CT scan and a mental health hospitalization unit will be added, the capacity of single rooms will be increased, and the emergency sector will be modernized with the addition of stretchers in closed spaces, stretchers in the shock area, chairs in the rapid assessment zone (RAZ), triage rooms, an ambulatory area and an area for general radiography.
Our team has been working on projects at the Saint-Eustache hospital since 1988.



Technical proposal for the new Vaudreuil-Soulanges hospital
Jodoin Lamarre Pratte architectes qualified, as part of the architectural consortium with Lemay and MSDL and the multidisciplinary team assembled by designer-builder Pomerleau, to prepare a technical proposal for the design, construction and financing (DFC) of the new Vaudreuil-Soulanges hospital - a 404-bed project with a surface area of approximately 130,000 m².
Our firm delivered the functional program and the development of the first two chapters of the "dossier d'opportunité" with Lemay in 2018.



New elementary school in Sainte-Marthe-sur-le-Lac
With Yves Woodrough architects, our team will design a new twenty-five room elementary school in the Sainte-Marthe-sur-le-Lac area. This school, which will accommodate preschool and elementary education groups, is scheduled for delivery no later than December 2024.