2005-2009 Montreal-Trudeau International Airport expansion
Context
Launched in 1999 by the ADM (Aéroports de Montréal), the objective of this this ambitious project was to heighten the quality and operations of Montreal's Pierre-Elliot Trudeau Airport with various projected developments totalling over 900 million dollars. The vision was to efficiently manage the flow of international travelers in a world-class environment, keeping in mind an ever-changing air travel industry, an aging population, a complete overhaul of security measures, improved quality of services to passengers, and the efficiency of carrier operations and other ADM partners. There was also a major challenge in rolling out a project of this scale without disrupting the regular activity of airport operations.
Partners

Provencher Roy
Cardinal Hardy architectes (Lemay)
ARCOP
Scale

350 M$

Completion

2005 — 2009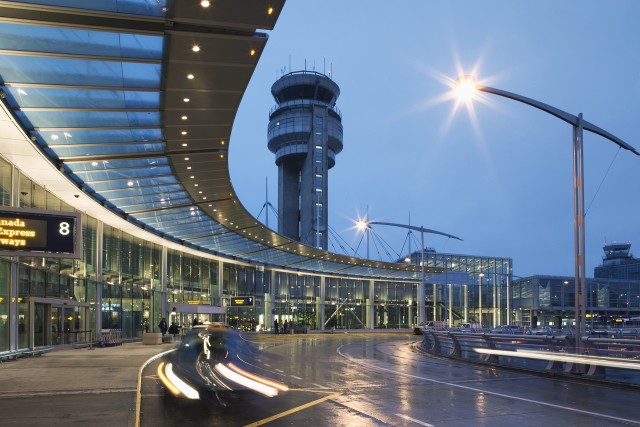 © Marc Cramer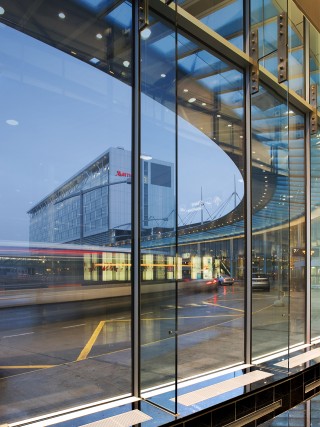 © Marc Cramer
The project addressing the international departures section (2005-2009), built in an extension of the connection terminal, consists of a baggage claim on the main level, as well as a check-in hall, a point of inspection, and a customs pre-clearance zone on the floor. On the next levels, a top-quality, 275-room hotel, completed by an independent consortium. In the basement, a 500 vehicle underground parking lot allows for the cost amortization of the construction envelope of the future railway station. The elongation of the exterior drop-off zone toward the new departure area is also included in the project.
The architectural approach of this project was perceived with particular attention to the treatment of the glass surfaces used to create the new airport facade. This facade, which is the full length and twice the height of the international departure hall, has incorporated new technologies in glass manufacturing to achieve transparency. The new unit for the future rail shuttle, connecting with the existing airport, is consistent with this design, as glass is used on the whole of its surfaces - walls, ceiling and floors.