Extension and Renovation of the Sautjuit School in Kangirsuk
Context
The project includes the construction of a two-floor extension of 614 m² and the renovation of the existing primary school of 2900 m² of the Kativik School Board, built in 1983 and renovated in 1994.
Scale

3 500 m² / 5 M$

Completion

2010 — 2012
Seven classes and a multipurpose workshop have been built in the extension, while the interventions in the existing building consisted of the reorganization of the offices of the school management, the main entrance —by the addition of a wall and external signage—, and the playground; of the complete renovation of interiors including furniture and finishes; of the repair of the roof cladding; and the upgrading of exits.
In addition to the challenges posed by the connection of the expansion with the existing building, the climatic conditions of the Great North and the logistics of protection against vandalism involved the design of a high-performance envelope and the use of very robust materials, while being aesthetic.

© Lester Kovac (Kangirsuk, Google Maps)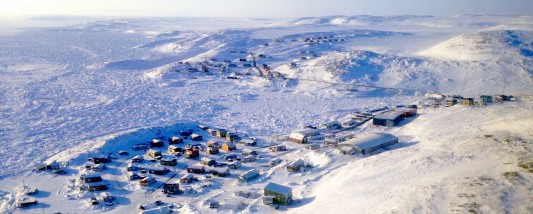 © Arnaud Janvier (Kangirsuk, Google Maps)