« Growing Up Healthy »: Major expansion and modernization of the CHU Sainte-Justine - LEED Gold
Context
For this 127,500 m² extension and modernization project of the CHU Sainte-Justine, designed as part of a turnkey process, Jodoin Lamarre Pratte architectes was part of the team of master architects and compliance monitoring. Our mandate has thus involved the considerable responsibility of ensuring the optimal quality of the project by leading the concept and production of the preliminary plans. This premise included specific deliverables, each of them meeting the very highest performance standards and programming and construction criteria. We worked in close collaboration with the various users and collaborators in the development the performance specifications deliverables, then supervise compliance monitoring at the stages of the production of the plans and specifications and construction carried out by the firms MSDL and Provencher Roy. The project is LEED NC Gold certified.
Partners

Master team :
Jodoin Lamarre Pratte architectes, Lemay, BGLA, DMG
Design-build team :
MSDL, Provencher Roy
Scale

127 500 m² / 450 M$

Completion

2010 — 2016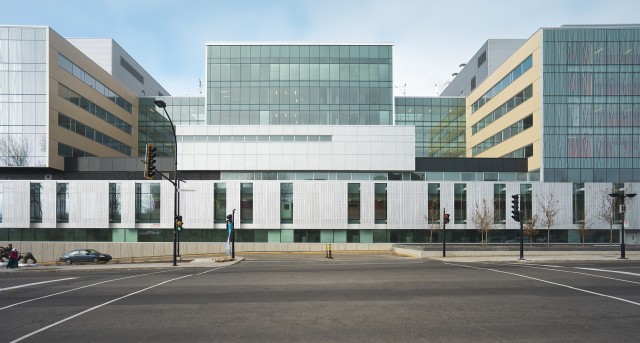 © Alain Lavergne
The "Growing Up Healthy" modernization project is providing the Sainte-Justine University Hospital Center with the necessary infrastructure to meet the needs of mothers and their children in all aspects of the institution's mission: specialized care and services, research, teaching, technology assessment and health promotion. The project has two components: the construction of an extension and the modernization of existing buildings.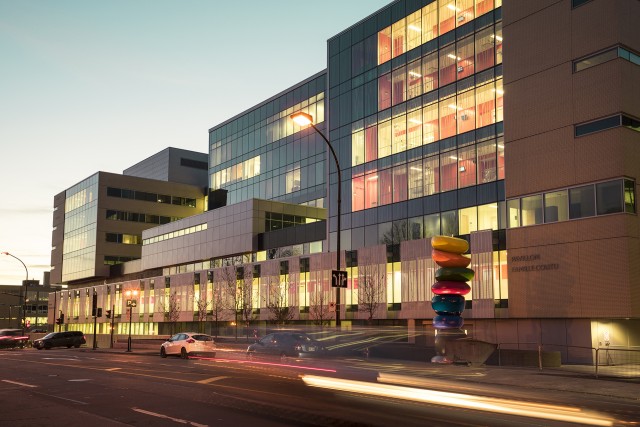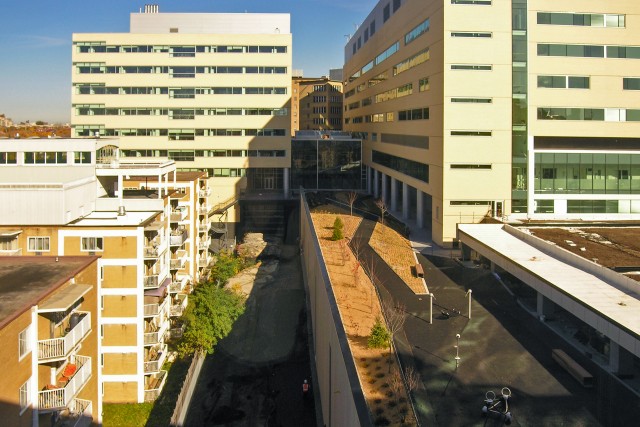 © Alain Lavergne
The new Specialized Units Building (BUS) and Research Center cover a total of 127,500 m² of floor area, which includes underground parking for 1,200 vehicles and a seven-storey thermal power plant. Designed in continuity with the existing facilities of the Sainte-Justine Hospital, the project is characterized by the division of the complex into two poles, the BUS and the Research Center, linked together by an atrium and two auditoriums (120 and 150 places) for the purposes of teaching and disseminating health promotion. The BUS groups together care units and diagnostic and therapeutic services: 275 individual hospital beds (32 in critical care, 43 in the birth unit, 80 in neonatology and 120 in pediatric care), a technical platform containing medical imaging (11 technical rooms, including two MRIs), and 14 operating rooms including 2 hybrid rooms (a hemodynamic room and a neurosurgery room combined with an MRI).
The Research Center is spread over nine levels and includes 84 wet research laboratory units, two levels of dry laboratory and technical and clinical administrative areas.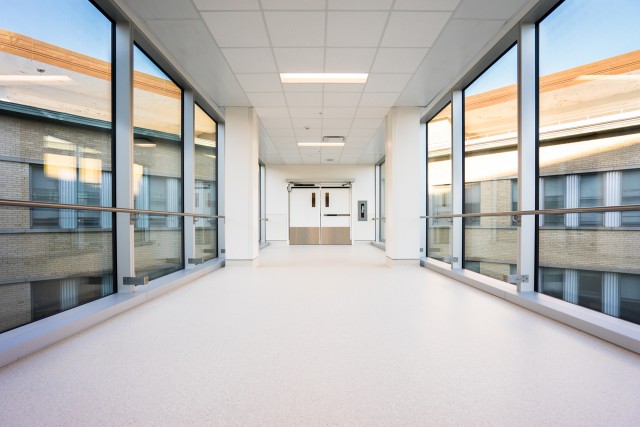 © Alain Lavergne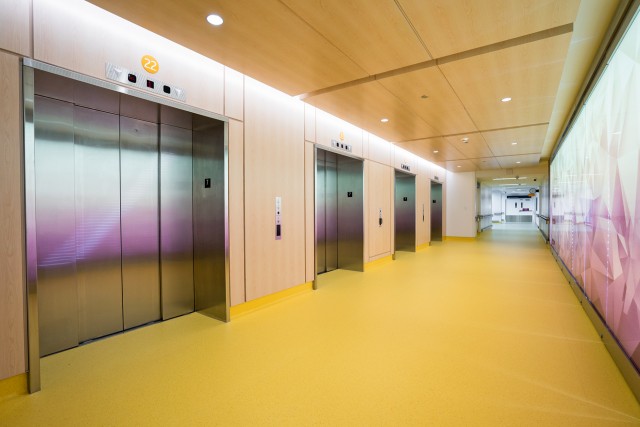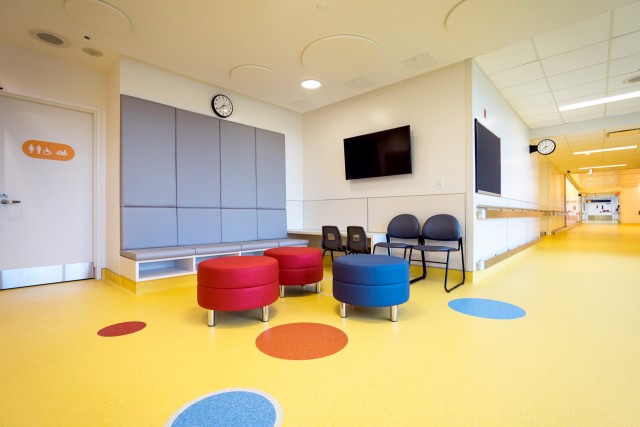 © Alain Lavergne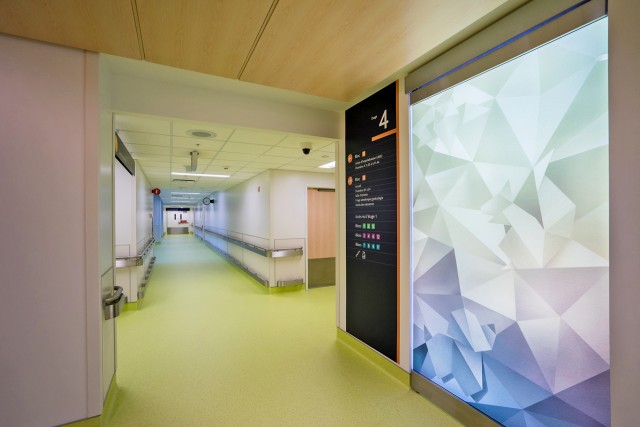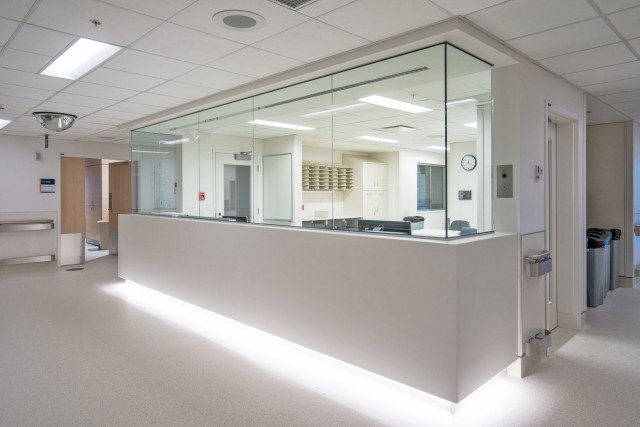 © Alain Lavergne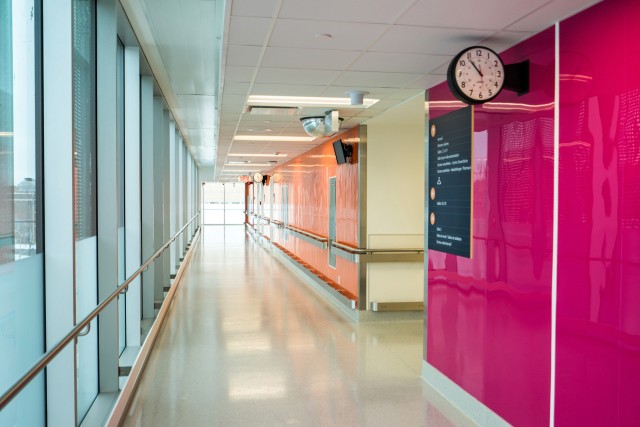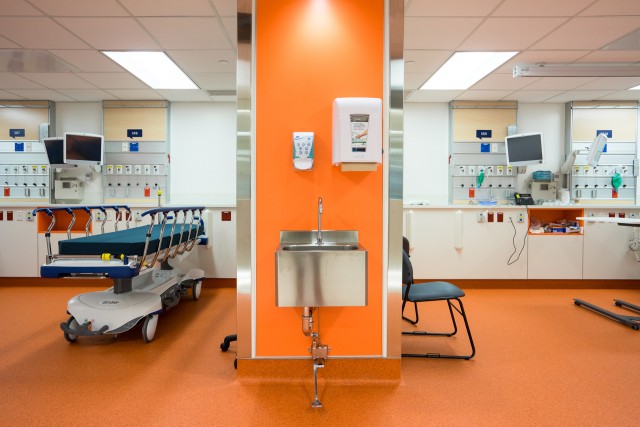 © Alain Lavergne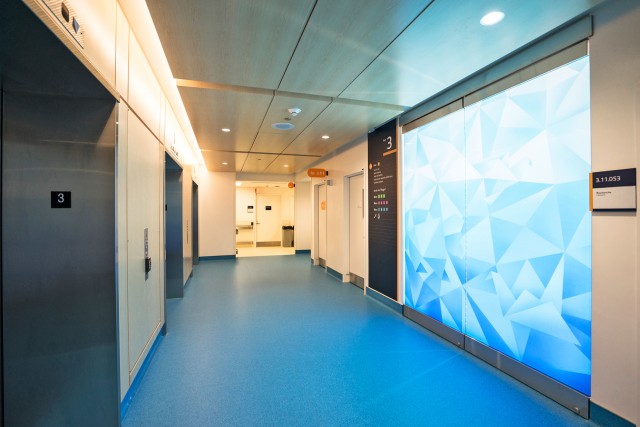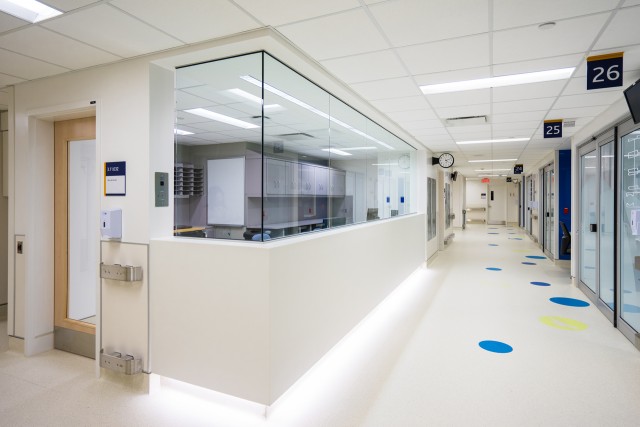 © Alain Lavergne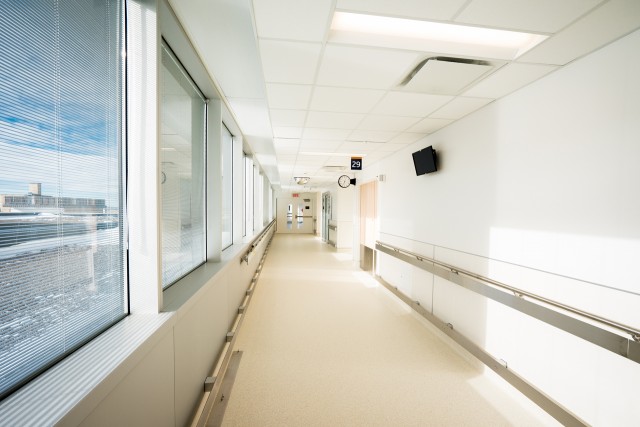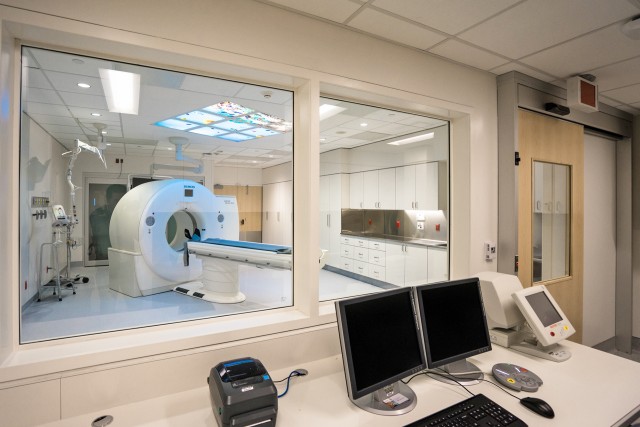 © Alain Lavergne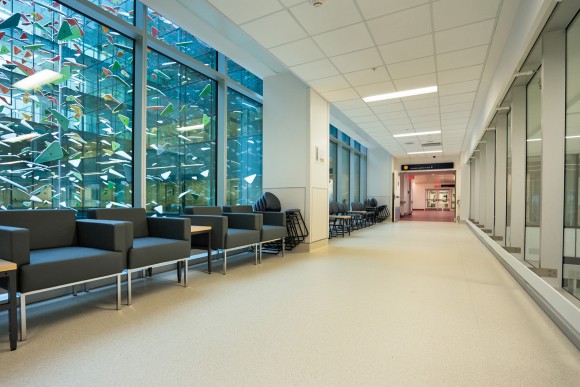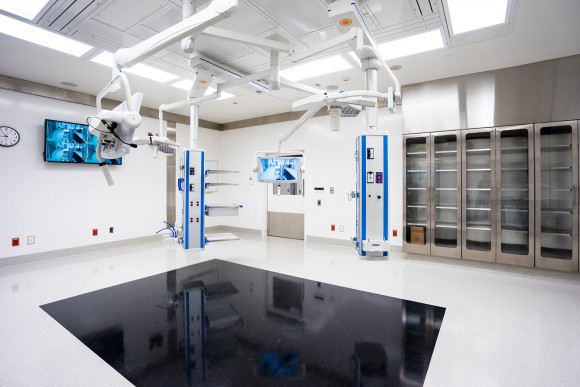 © Alain Lavergne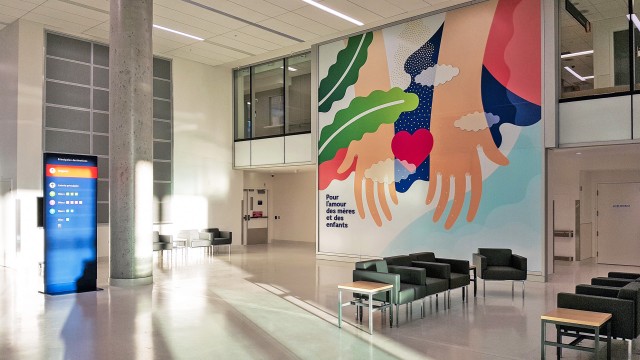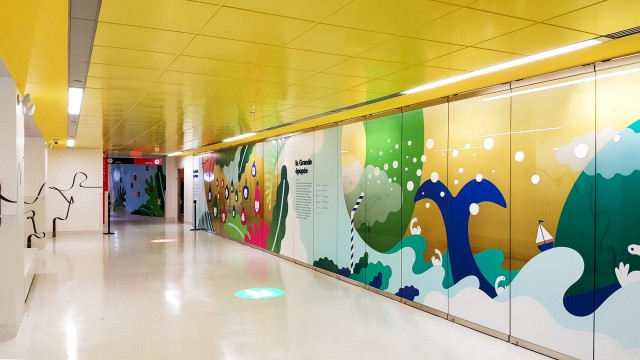 © Alain Lavergne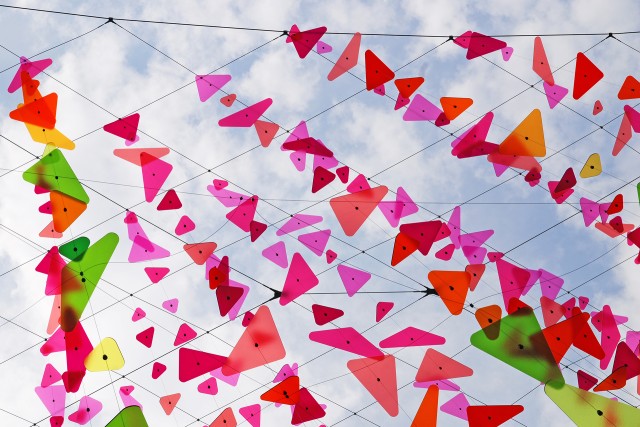 © Daniel Litalien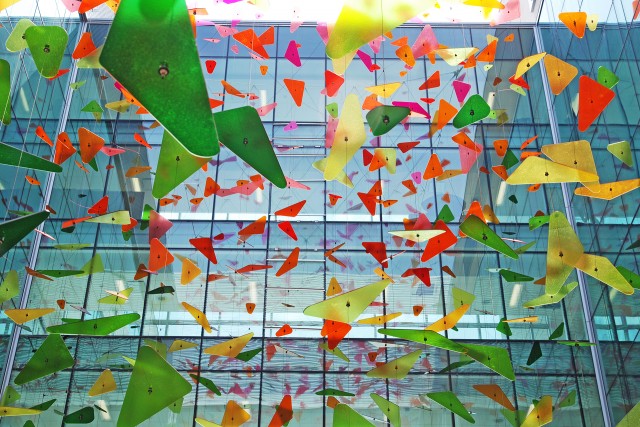 © Daniel Litalien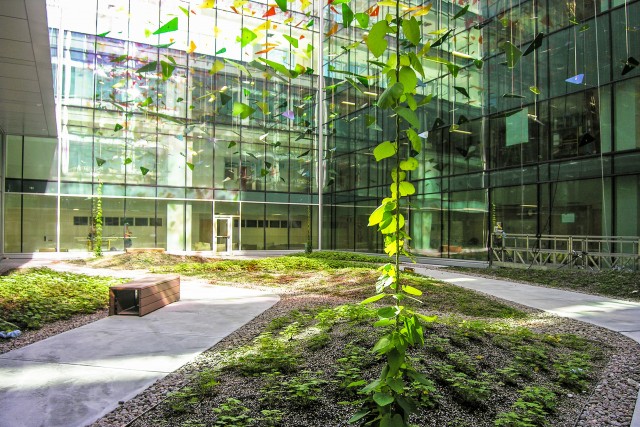 © Alain Lavergne