Last phase of the new CHUM hospital complex in downtown Montreal
Context
Jodoin Lamarre Pratte architectes, in consortium with MSDL, has been mandated to complete the last phase of the new Centre hospitalier de l'Université de Montréal (CHUM), erected at the corner of René-Lévesque Boulevard and Saint-Denis Street. This last phase of 70,000 m² includes a 365-seat auditorium, two connected 16- and 17-storey towers that house outpatient clinics, a library, medical archives and administrative spaces, as well as parking spaces for 850 cars and 210 bicycles and locker rooms for approximately 3,300 employees located underground. This phase included the demolition of the former Saint-Luc Hospital in order to free up the site for construction. This project is aiming for LEED Silver certification.
Partners

Design:
CannonDesign + NEUF architect(e)s
Design review/finalization, execution and construction supervision:
Jodoin Lamarre Pratte / Menkès Shooner Dagenais LeTourneux architects in consortium
Scale

73 752 m² / 275 M$

Completion

2018 — 2021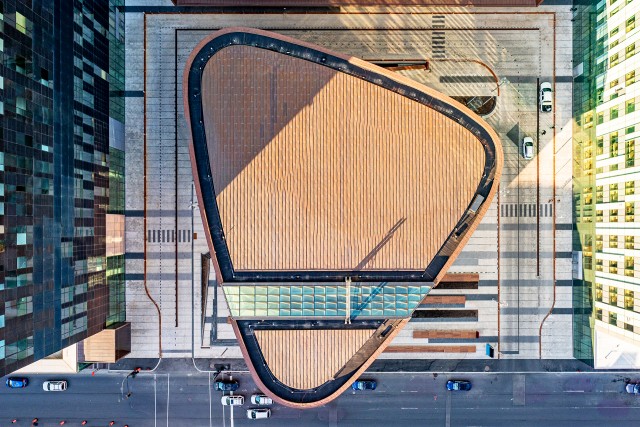 © Olivier Gariépy
"The word "complex" probably best defines this project. Such a development in a hospital setting involves a multitude of considerations, each more important than the last, including specialized medical equipment, confidentiality requirements, infection control issues, flow of traffic, and efficiency of layouts."
— Martine Gévry, Architect, Senior Partner, LEED AP
Responsible for the planning of clinical functional units, medical library and offices, specialized equipment and architectural quality control of interior layouts.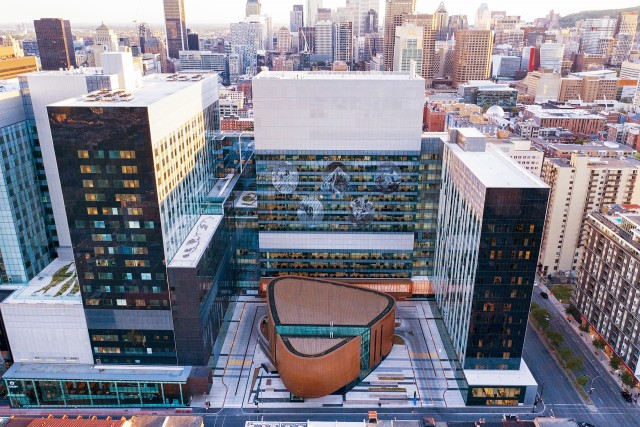 © Adrien Williams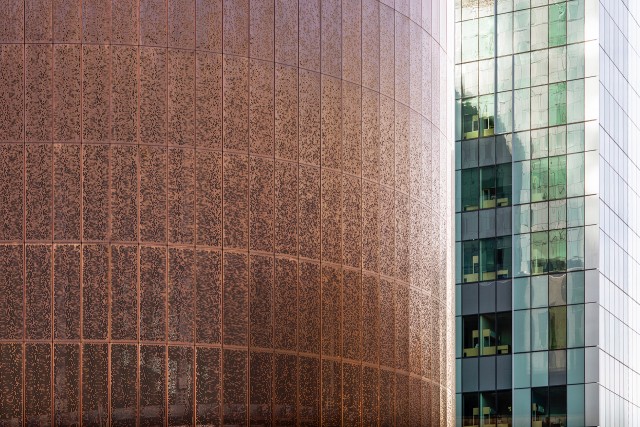 © Adrien Williams
The construction of the new nouveau Centre hospitalier de l'Université de Montréal (CHUM) began with the design of the CHUM Research Centre. This first phase of the project, on which our firm worked, was delivered on budget and on schedule in the fall of 2013 and is LEED Gold certified.
The construction of the hospital, designed by CannonDesign + NEUF architects, was planned in two phases in order to respect the functionality requirements of the CHUM and the maintenance of the operations of the Saint-Luc Hospital during the construction of the south pavilion, which was put into service in the fall of 2017. The finalization of the design, the execution of the plans and specifications as well as the supervision of the works of the last phase, which includes the demolition of the Saint-Luc Hospital and the construction of the North Pavilion and the auditorium building, was accomplished by our team in consortium with MSDL.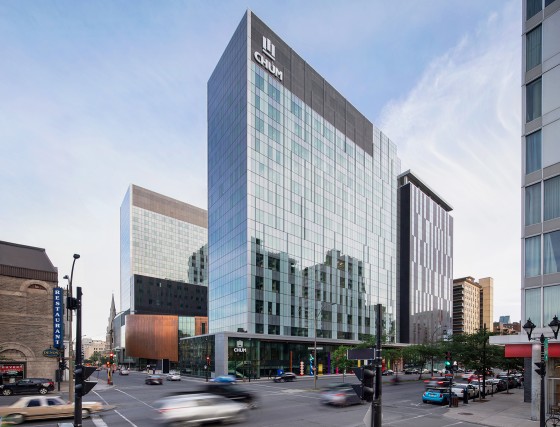 © Adrien Williams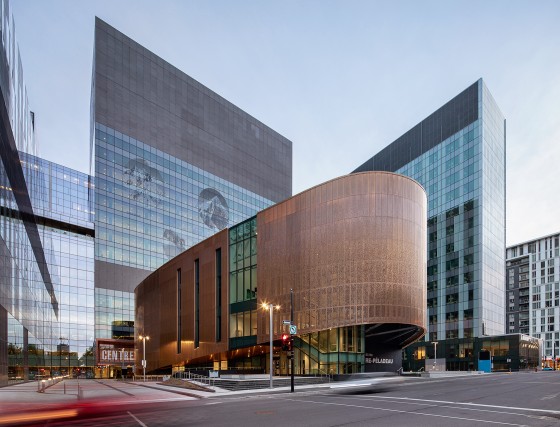 © Adrien Williams
A complex project
Located at the intersection of René-Lévesque Boulevard and Saint-Denis Street in the busy downtown area of Montreal, the latest phase of the CHUM's new hospital complex is integrated into a dense urban environment, close to the Ville-Marie Expressway, a metro station, and Montreal's cosmopolitan and historic districts. The team had to successfully cohabit with the previous phases, especially with respect to pavilion C, where the extension of the outpatient clinics is located and whose realization implied multiple and complex connections with the existing.
Everything has been meticulously analyzed, designed and implemented to allow the composition of a care environment that is worthy of the activities that take place there, the people who work there and the users who are cared for and accompanied there. The requirements of a hospital project of this scale required exemplary interdisciplinary coordination. If all of this proved to be feasible in this last phase of the CHUM, we must also add the challenges of an efficient and well thought-out realization in a very cramped setting, on the street, where each movement of manpower or materials entails an almost endless mathematical calculation.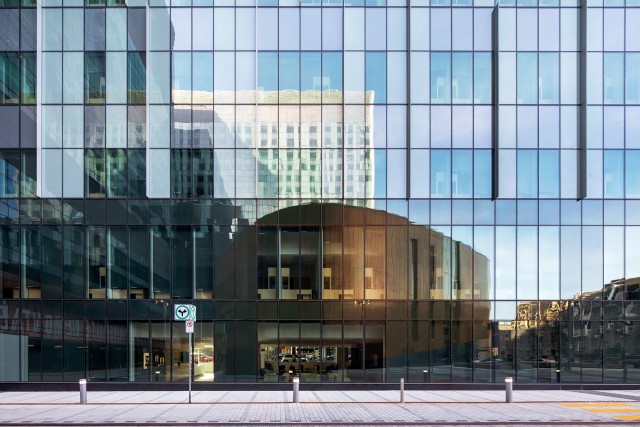 © Adrien Williams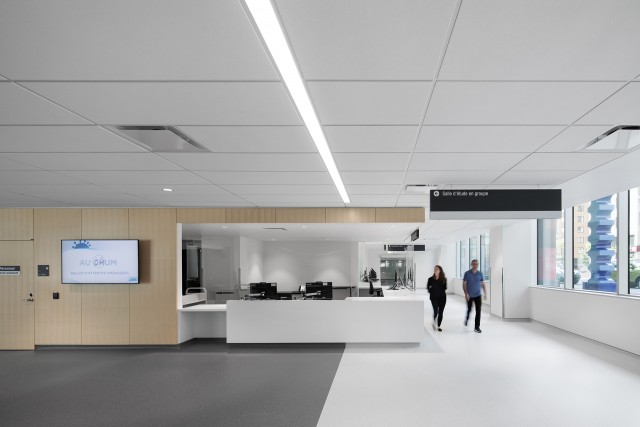 © Adrien Williams
« Le PDG du CHUM, le Dr Fabrice Brunet, confirme la « réception provisoire complète » de la dernière phase du CHUM, construit en partenariat public-privé. Malgré la pandémie, cette dernière phase a été livrée avec un mois d'avance et « dans les budgets ». Cela permet de rattraper légèrement le retard de 11 mois qui avait été accumulé lors de la deuxième phase du projet. La livraison de la deuxième phase du projet en 2017, qui comprenait la majeure partie de l'hôpital, avait été retardée. Des centaines d'éléments de non-conformité avaient été relevés. Environ 70 % de ces éléments sont maintenant corrigés, évalue le Dr Brunet. Pour la dernière phase, les erreurs sont quasi inexistantes. Si bien que le Dr Brunet estime que la réception finale du projet n'est plus très loin. »
―La Presse, May 16th, 2021
Ariane Lacoursière, excerpt from the article "Le CHUM est fini!"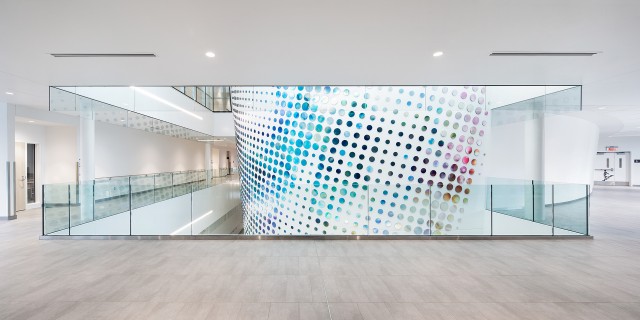 © Adrien Williams (Gwenaël Bélanger, "Trame de fond", 2021, print on mirror and aluminum)
A caring environment for all occupants
The quality of the architecture has a direct impact on the quality of life of its users, on their sense of security, confidence and ultimately, their well-being. It was imperative to provide a caring environment capable of welcoming and accompanying patients, supporting them through diagnoses, treatments, follow-ups, and visits to their loved ones, and providing a pleasant and stimulating workplace for the staff who work there every day. Architecture also plays an essential role in the efficient and functional planning of the various pathways. Good space design can reduce the level of stress associated with orientation in a hospital of this magnitude by, for example, providing reception, rest and walking areas with plenty of windows, positioning exterior views at the end of corridors, or using color to differentiate care services.
The evaluation of the preliminary design plans identified and understood the frequent critical linkages between different services and spaces. Units were reorganized to optimize floor space and reduce travel distances, allowing medical staff to be closer to patients. Based on the information available, on the standards in force and on our team's experience in the realization of similar projects, the design of the clinical spaces and the integrated furniture was entirely adjusted to the needs of the personnel, whether in terms of sequence of use, sensitivity of human contact, ergonomics and sturdiness, all with a view to universal accessibility, durability and sustainable development.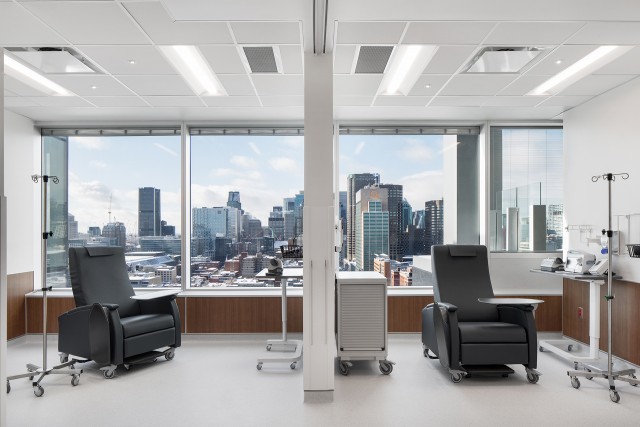 © Adrien Williams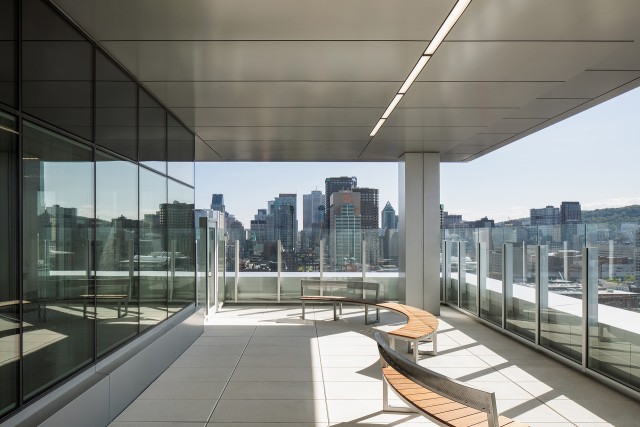 © Adrien Williams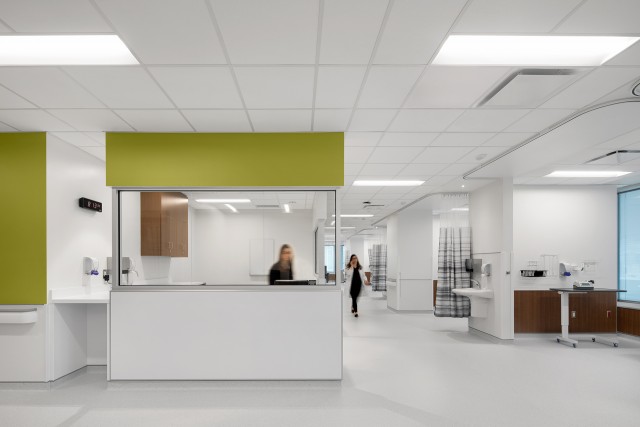 © Adrien Williams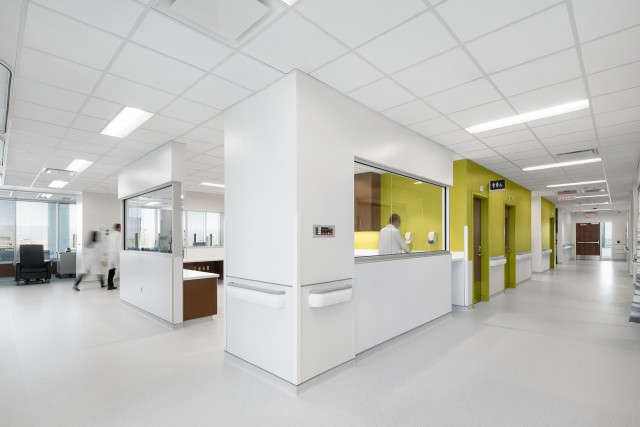 © Adrien Williams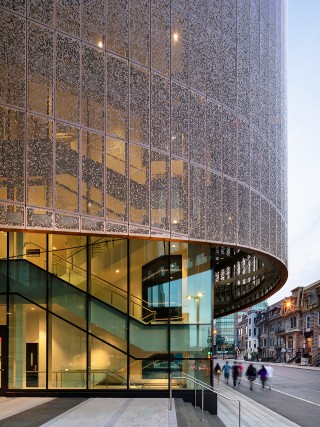 © Adrien Williams
A singular amphitheatre
With its unusual shape and its envelope made of copper panels - a noble and durable material used on the roofs of several emblematic institutional buildings in Montreal and Quebec - the Pierre-Péladeau Amphitheatre gives the project a unique character. The main auditorium, originally designed with fixed bleachers, has been redesigned to include retractable bleachers. This large multifunctional auditorium includes technological and scenographic equipment and can accommodate 365 people in its standard configuration, and nearly 150 people in cabaret mode. The building also houses up to 10 meeting rooms thanks to movable walls that allow for the division of 5 large meeting rooms, where acoustic insulation is ensured notably by the use of triple glass.
A real structural feat, the building's volumetry and large spans were achieved by a complex load-bearing frame and cantilevered shell and floors. Built above the underground parking lot, surrounded by a perimeter circulation path with access to the parking lot, and equipped with a full-width glass skylight on the roof, this amphitheater was the source of many functional and technical challenges and required great mastery in both design and execution.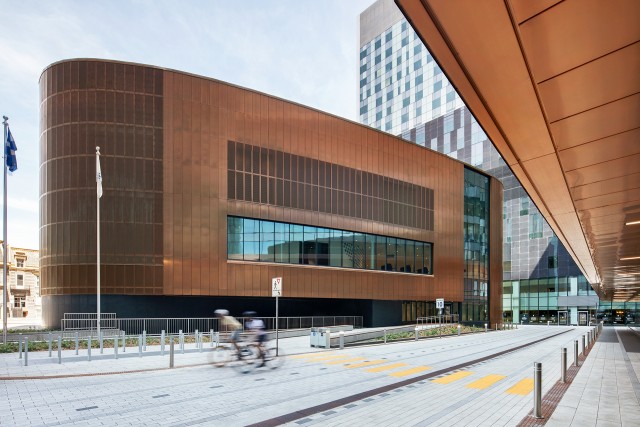 © Adrien Williams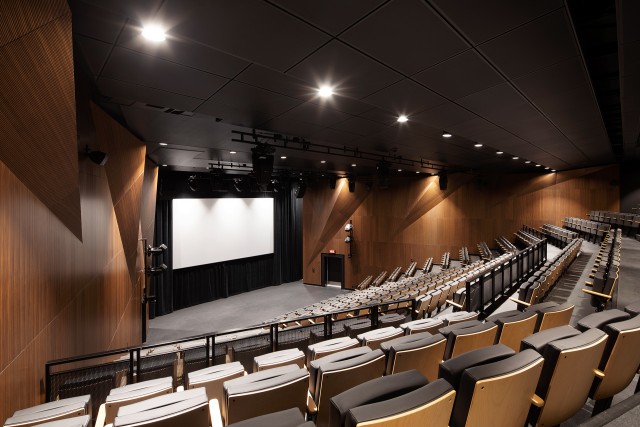 © Adrien Williams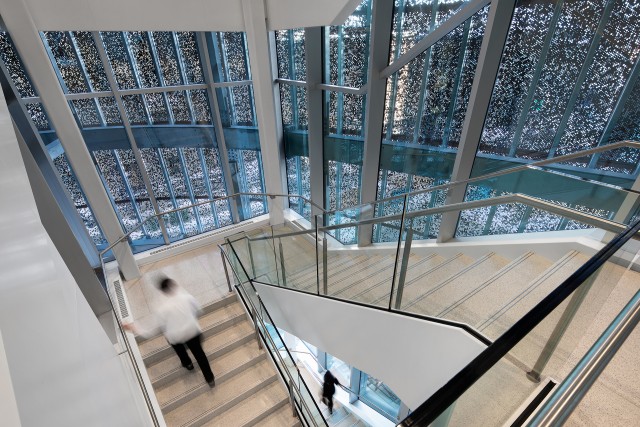 © Adrien Williams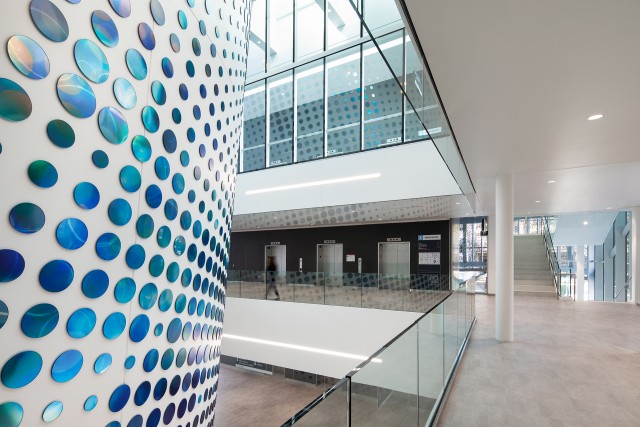 © Adrien Williams (Gwenaël Bélanger, "Trame de fond", 2021, print on mirror and aluminum)
This project marks the end of a gigantic urban development project in the health sector. A state-of-the-art hospital complex where researchers, doctors and specialists join forces to contribute to a better society that takes care of its population. With the completion of this last phase, "all doctors now have their offices in the same place. All the players will be brought together on a single site, which will allow the hospital to deploy the full force of the synergy" (Dr. Fabrice Brunet, CEO of the CHUM / La Presse).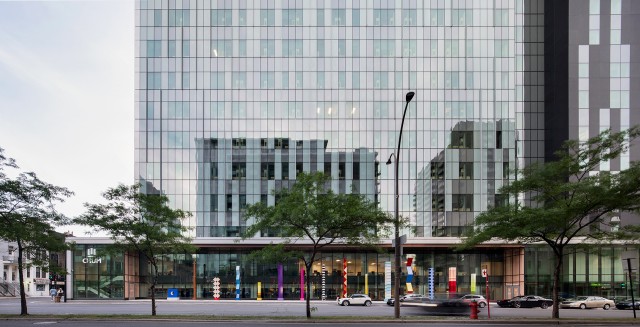 © Adrien Williams (Richard Ibghy & Marilou Lemmens, « 1+1+1=1 », 2021, painted aluminium)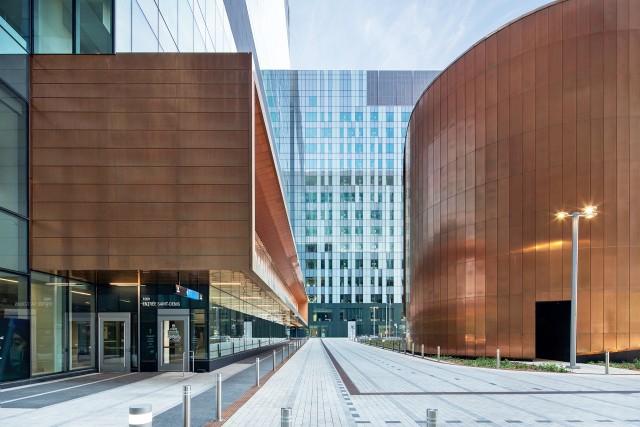 © Adrien Williams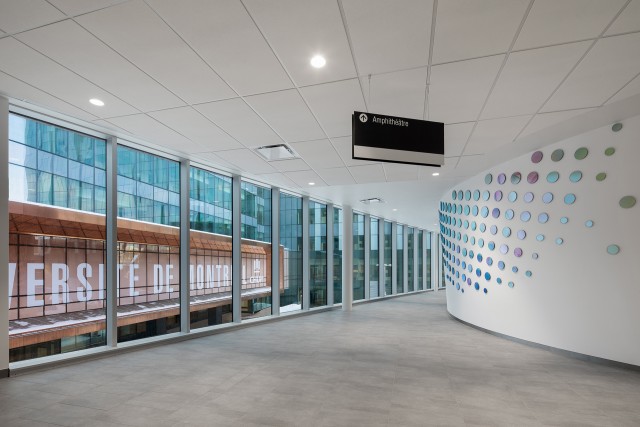 © Adrien Williams (Gwenaël Bélanger, "Trame de fond", 2021, print on mirror and aluminum)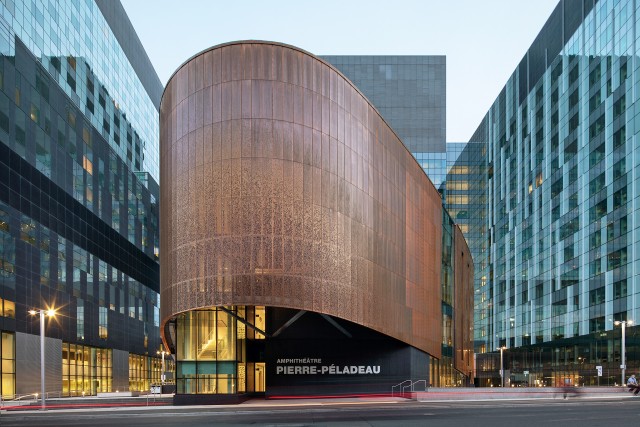 © Adrien Williams
Data sheet
Project program
365-seat amphitheater: 5,582 m² on 3 floors
Pavilion C - Outpatient Clinics: 15 floors (14,807 m²)
Pavilion B - Library and administrative offices: 15 floors (18,619 m²)
Parking: 852 spaces on 5 floors (31,600 m²) and 210 bicycle spaces
Checkrooms: 3311 lockers for the staff (40% of the total)


Project team
Design: CannonDesign + NEUF architects
Revision and finalization of the design, execution and supervision of the work: Jodoin Lamarre Pratte | Menkès Shooner Dagenais LeTourneux architects in consortium
Construction: Pomerleau
Engineering: Pageau Morel and Associates, SDK and Associates
Landscape architecture: NIPpaysage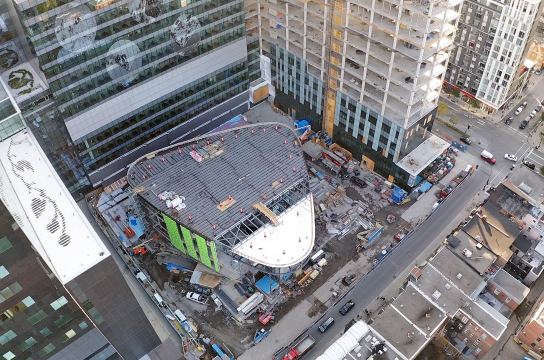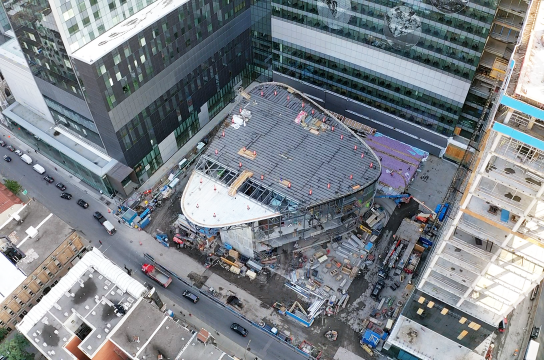 © Structures de Beauce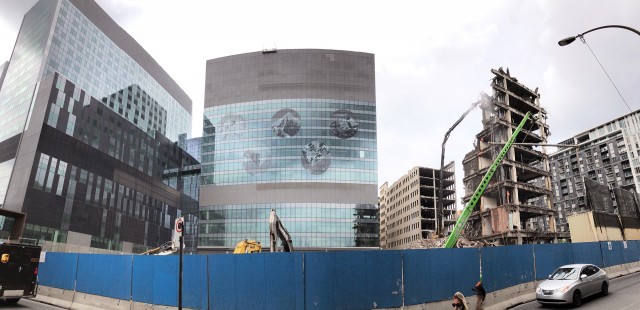 © Chantier de démolition de l'hôpital Saint-Luc (Jodoin Lamarre Pratte architectes, 2018)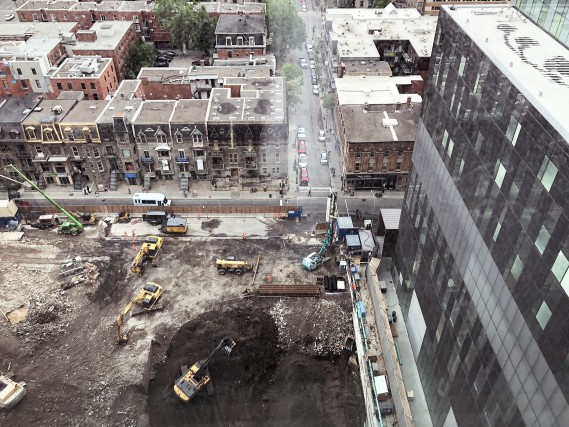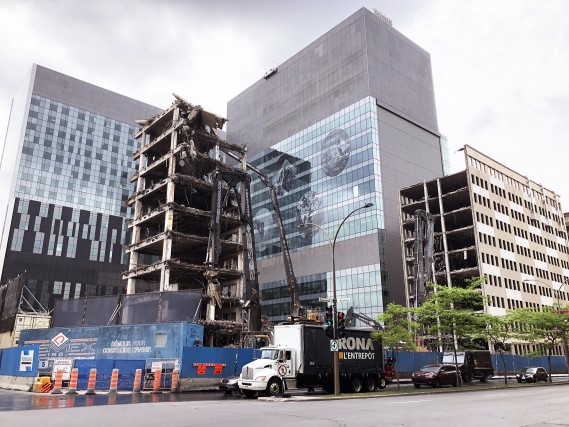 © Chantier de démolition de l'hôpital Saint-Luc (Jodoin Lamarre Pratte architectes, 2018)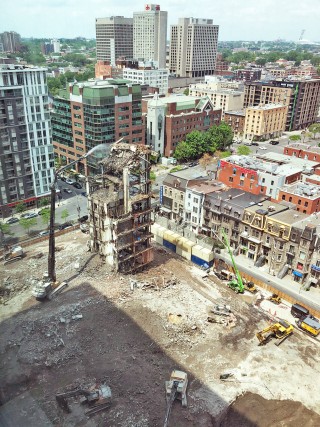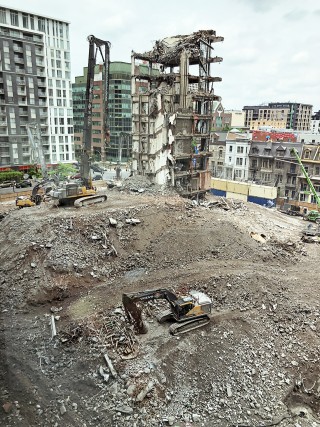 © Chantier de démolition de l'hôpital Saint-Luc (Jodoin Lamarre Pratte architectes, 2018)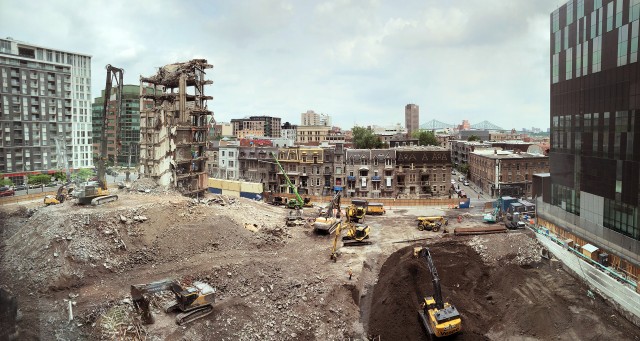 © Chantier de démolition de l'hôpital Saint-Luc (Jodoin Lamarre Pratte architectes, 2018)
Awards and Distinctions
Awards of Excellence for construction in steel (CISC), Institutional-Industrial Projects Category - 2022
Awards of Excellence for construction in steel (CISC), Favorite Project Category - 2022
Exemplary Project, AAPPQ Reference Manual - 2022
Architecture MasterPrize, award in the Institutional Architecture category - 2022
Architecture MasterPrize, award in the Healthcare / Wellness category - 2022
Healthcare Environment Awards, Honorable Mention, Ambulatory Care Facilities - 2022
Winning project, 2022 North American Copper in Architecture Awards (Amphithéâtre Pierre-Péladeau) - 2022
Ordre des architectes du Québec Awards of Excellence, People's Choice Award - 2022
Ordre des architectes du Québec Awards of Excellence, Public Institutional Buildings category - 2022
Mention IAAQ (Institut d'acier d'armature du Québec), Quebec and Eastern Ontario ACI Concrete Construction Awards of Excellence - 2022
Quebec and Eastern Ontario ACI Concrete Construction Award of Excellence in the Engineering merit category - 2022
Quebec and Eastern Ontario ACI Concrete Construction Award of Excellence in the High-rise building category - 2022
Claude-Jacques Roofing Excellence Award from the Association des Maîtres Couvreurs du Québec in category 2: Flat roofs (copper roof of the Pierre-Péladeau Amphitheatre, Couverture Montréal-Nord) - 2021