Laval Integrated Cancer Center at the Cité-de-la-Santé Hospital
Context
This project consists of a standalone pavilion of 7,275 m² gross combining all functions, including a radiotherapy processing area and chemotherapy sector, for the new integrated cancer centre at the Cité de la Santé in Laval.
Partners

Allard Bergeron Bouthillier
Birtz Bastien Beaudoin Laforest
Scale

7 275 m² / 27 M$

Completion

2008 — 2011
Since the building's main vocation is that of an integrated centre, special attention was placed on the balance between the path taken by patients in treatment and the establishment of a very high level of technology. The pavilion was developed based on the driving force of the cancer centre—teletherapy facilities oriented around a green space near the public and treatment areas. This arrangement maximized natural light for patients and caregivers. From the focal point of the reception area, a clear traffic hierarchy directs the patient to the different waiting, consulting, simulation, and treatment areas.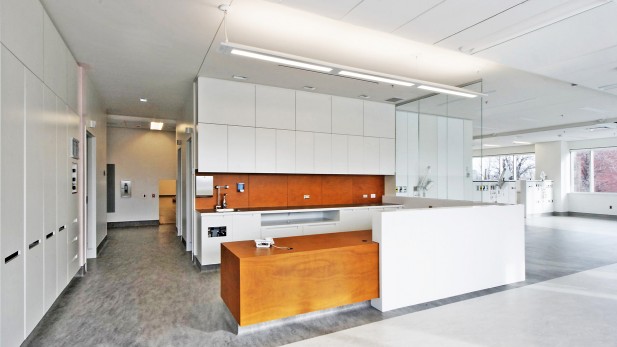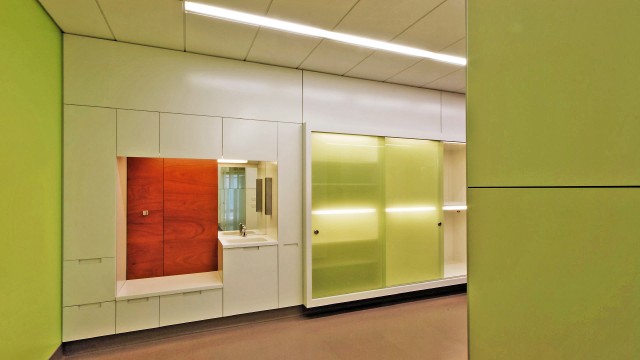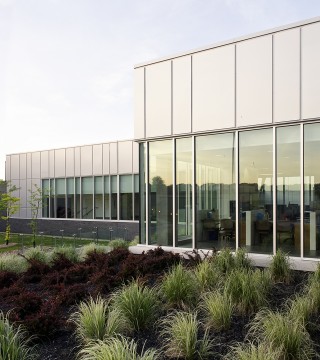 This layout takes into account the following key concepts: integrating the latest developments and approaches for spaces used in the fight against cancer by maximizing the presence of natural light and vegetation within the radio-oncology treatment areas; developing various functional areas with a view to reducing the movement of medical personnel; establishing a hierarchical traffic network that distinguishes between public and medical traffic; develop public spaces favoring orientation to the various treatment areas; providing more functional and pleasant work spaces for caregivers; developing treatment rooms while taking into account the complex requirements of high-tech equipment and the emotional well-being of the patient during treatment; and promoting an approach that addresses LEED and sustainable development criteria.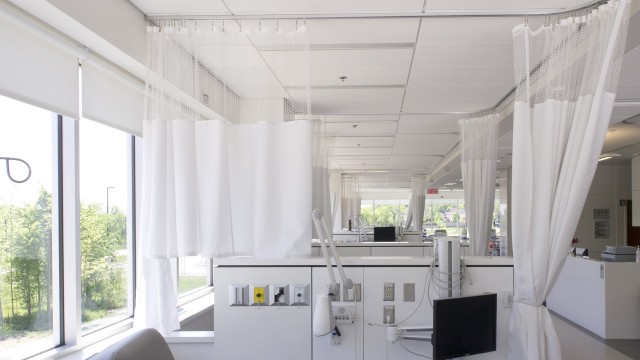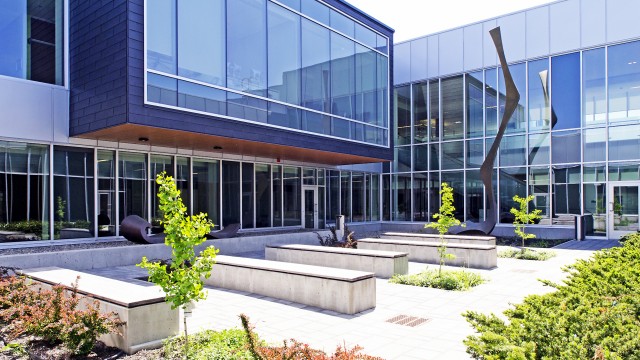 The placement of the pavilion, located functionally in connection with other sectors of activity in the hospital, contributes to an easy orientation for visitors. Main access is dedicated to oncology and served by a secure drop-off area on the periphery of high-traffic zones. This ensures the peace and discretion necessary for a recurring and afflicted ambulatory clientele. The proposed architectural solution has a low profile, where volumes blend with the ground topography, creating a real dialogue between the built environment and landscape design.