Pavilion of the Republic of Haiti at Expo 67
Context
Jodoin Lamarre Pratte architectes (then Jodoin Lamarre Pratte Carrière et associés architectes) opens up to the world with the realization of the pavilion of the Republic of Haiti at Expo 67. Bordered by canals on two sides and facing the pavilions of France and western provinces, the building evokes a boat. It consists of white-painted cubes floating at different heights on glass boxes, allowing visitors to perceive the contents exposed from the outside, especially from the large terrace adjacent to the pavilion. Some of the exhibits, including sisal, cotton and tapestries, also served as floor and wall coverings.
Scale

325 m²

Completion

1965 — 1967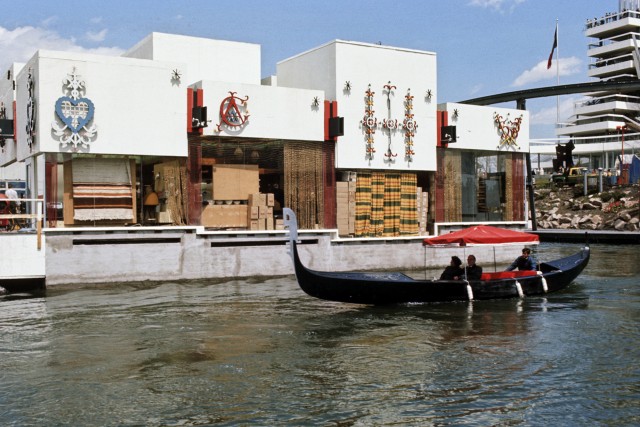 © Bibliothèque et Archives Canada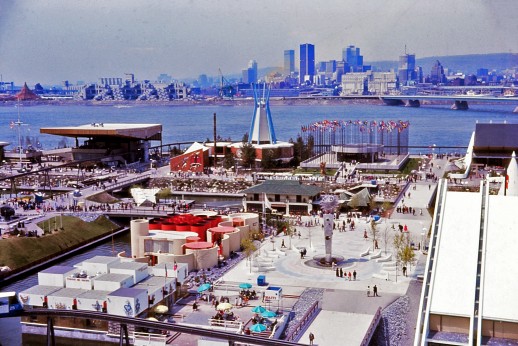 Haiti, Land of the Sun, is the theme of the displays in the Pavilion of Haiti, situated on ile Notre-Dame and - appropriate for a French speaking land - adjoining the pavilions of France and Quebec. For visitors to Haiti on Expo a really sunny welcome is waiting.
Expo-Express and Minirail systems provide convenient access to the pavilion, opening onto the Engeneers' Plaza with Yugoslavia and Monaco as neighbors. On two sides it is bounded by picturesque canals. The land of the sun motif of the pavilion is expressed in architecture and decoration as well as in the exhibits. On both the external terrace and the internal flooring there is a stylized representation of the sun. The decor sets the mood of the pavilion's gay and cheerful atmosphere. The outer walls of 16 hollow cubes of varying height are painted white, while their interior surfaces in shades of orange reflect the rays of the sun filtered through transparent plastic which covers the whole pavilion area. Exterior walls of glass give passersby a clear view of what is going in inside. Some of the exhibit elements, for instance sisal, cotton and tapestries are displayed on floors and walls. Sculptures, paintings and dolls are hung from steel wives stretched between floor and ceiling. A special feature of the design is that the interior flooring is continued to the exterior terrace, which in fine weather is also used as a display area.
―Official Guide of Expo 67
Maclean-Hunter Publishing Co. Ltd., 1967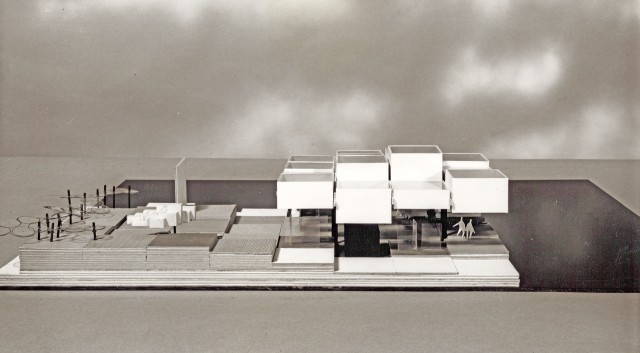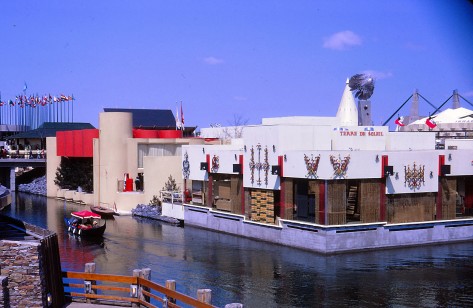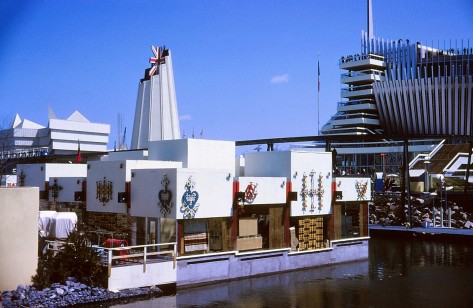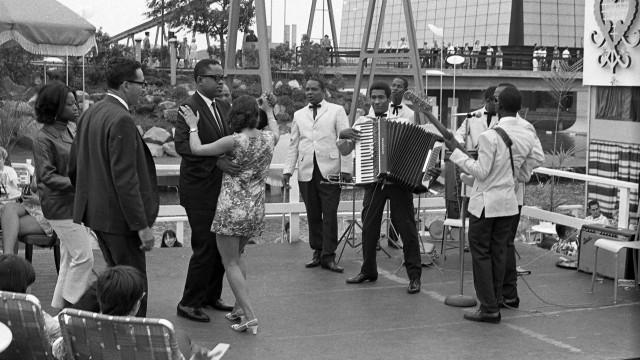 © Archives du CIDIHCA