Pierre-Le Gardeur Hospital
Context
The Pierre-Le Gardeur hospital was inaugurated in 2004. Its innovative design has made it possible to define new standards for the functional organization and planning of health services for the 21st century. Many of the principles established in this project have been applied to subsequent projects and are still considered a model for planning new construction in healthcare architecture. With its innovative design, abundant natural light, improved orientation and the use of warm and soothing materials, this building is a source of enthusiasm for the patients and a great appreciation to its staff.
Partners

Birtz Bastien
Lemay
Durand
Scale

52 000 m² / 102 M$ (2000)

Completion

1997 — 2004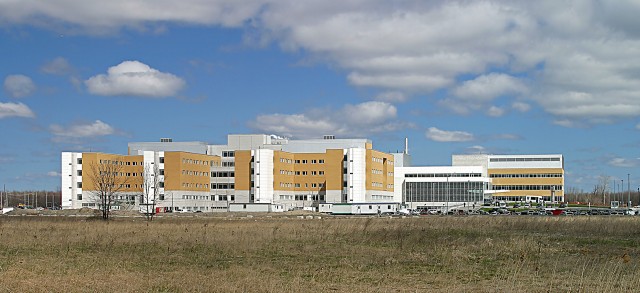 © Jean Mercier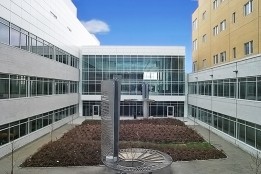 © Jean Mercier
Located on a site of 125,000 m², the 52,000 m² short-term hospital was built with a capacity of 272 beds, combined with an ambulatory care centre. It replaced the existing Pierre-Le Gardeur Hospital, which has since been transformed into a residential center. Through design decisions, the project has been designed for long-term flexibility and provides separate access and traffic for visitors, staff, ambulances and delivery trucks.
The concept was developed around a linear garden, grouping functions into three blocks: care units, diagnostic and therapeutic services, and ambulatory services. The new hospital incorporates the most avant-garde concepts and trends. It includes an ambulatory hemato-oncology unit, an operating unit including a sterilization unit for 9 operating rooms, circulation areas arranged on a double corridor principle, an emergency of 37 stretchers, outpatient clinics, an MRI scan, 2,000 m² of diagnostic laboratories (histology, culture room and microscope, auxiliary uses), a department of rehabilitation and administrative spaces. It includes a food service to serve nearly 300 beneficiaries and staff. The project was designed to expand the three functional blocks.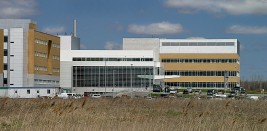 © Jean Mercier
The abundance of natural light in the spaces is generated by the articulation of volumes along the linear garden and courtyards. This configuration also allows users to easily navigate inside the building through the many views on the outside. Horizontal and vertical circulation have been planned to avoid crossings between the different movements of patients, visitors, medical personnel and supplies.