Restoration of the Notre-Dame du Sacré-Cœur Chapel
Context
The Sacré-Cœur Chapel of Notre-Dame Basilica was built from 1889 to 1891 according to the plans of the architects Henri-Maurice Perreault and Albert Ménard. Predominated by a neo-Gothic style, the chapel is typical of late-19th century architectural eclecticism and orientalization of architectural culture. It is characterized by the opulence of its woodwork and carved ornaments. The chapel was completely destroyed by a fire on December 7, 1978, except for one aisle and part of the rood screen.
Scale

6,5 M$ (1982)

Completion

1979 — 1982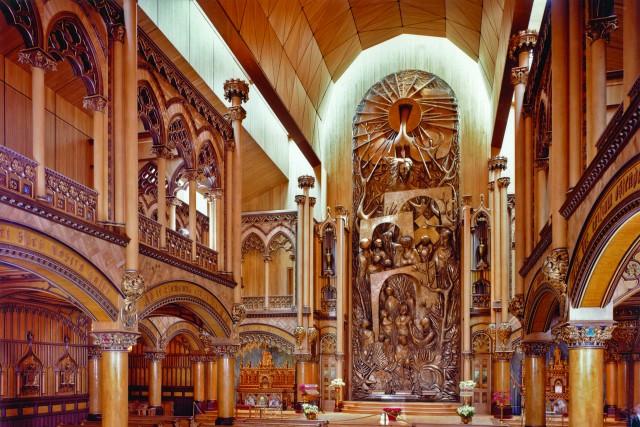 © André Tremblay
Respect for the original plan, the optimal preservation of the original elements, and the reconstruction of the lower levels summarize the restoration / renovation approach which, however, forsakes the option of an identical reconstruction. A team of craftsmen worked to restore the soul of the place by reviving the space of the chapel and the bronze altarpiece of Charles Daudelin, and by the addition of a new vault with linden interior finish. The project was guided by the principles of consolidation / differentiation of the theory of critical restoration drafted in the 1964 Venice Charter.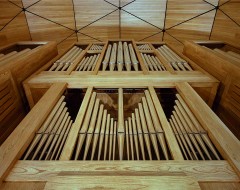 © André Tremblay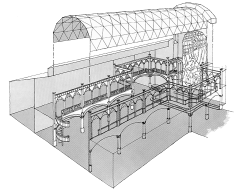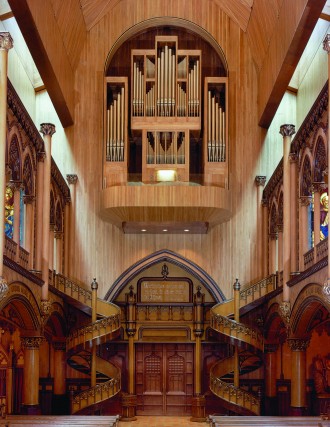 © André Tremblay
The old vault, criticized by authors such as Toker, was replaced by the highly modern element of the project: a vault of triangular wooden panels including two skylights to illuminate the altarpiece and choir. The longitudinally self-supporting vault, with a span of 26 meters, rests on the existing dividing wall and on a new structure. It lighten the whole, and thanks to the skylights, suggests an opening towards the sky. This soothing space, giving a sense of luminosity and liberty, is defined by the unity of materials and the harmony of the whole. The vivacity of the colors dominated by orange tones revive the flamboyance of the chapel. Few buildings in Montreal can boast of such a successful alliance between historicity and modernity. This achievement was hailed as an intelligent and sensitive restoration.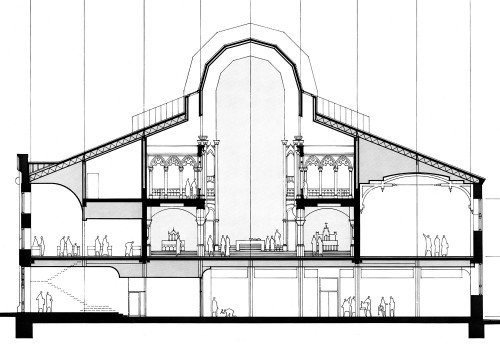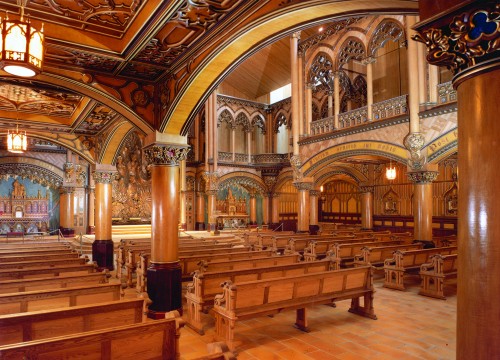 © André Tremblay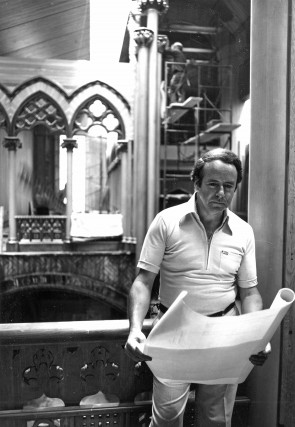 © Archives, Jodoin Lamarre Pratte architectes
Jodoin Lamarre Pratte architects (then Jodoin Lamarre Pratte et associés, architectes) was mandated in December 1978 to rebuild the chapel. Mr. Denis Lamarre, architect and founding member of the firm, then suggested to rebuild the chapel partly according to the original plans and to modernize some elements, rather than performing a restoration entirely faithful to the original construction.
Mr. Denis Lamarre can be seen in the photo opposite, on a site visit in 1981.