Technical proposition for the new Maison Radio-Canada
Context
After drafting the functional and technical program of the new Maison de Radio-Canada in 2012, the firm was part of the MédiaCité team which presented in 2015 a technical proposal for the project's construction, to be carried out through a public-private partnership (PPP).
Location

Partners

Provencher Roy
Scale

122 700 m²

Completion

2012 — 2014
A house open to the world
The proposed concept was that of a Maison open to the citizens and the world, offering generous public spaces and taking full advantage of its strategic location, framed by René-Lévesque boulevard, Papineau avenue and Viger avenue. The building, deliberately designed on all its faces, is organized in two volumes around a new welcoming public square, the Square Radio-Canada.
The proposition presents a meeting place that encourages exchanges and creation, while offering a space for information, learning and cultural enrichment. The dynamic architectural expression reflects the variety of the Maison Radio-Canada's functions: a place for work, broadcasting and discovery as well as a place to meet and hold events.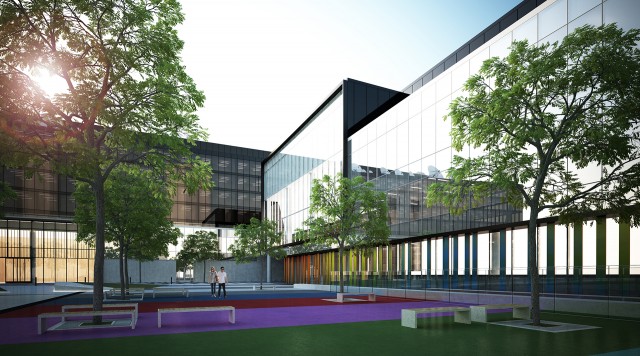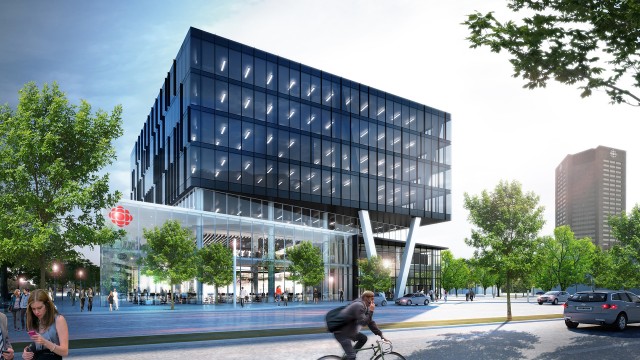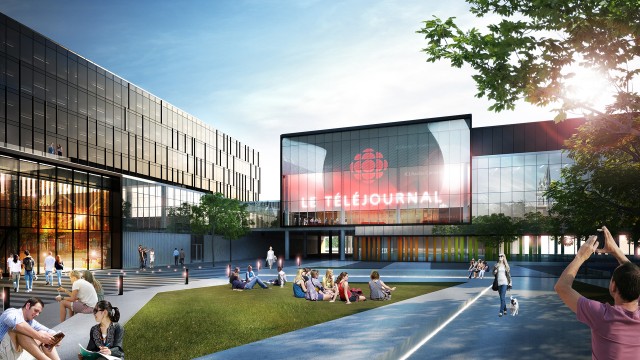 A technically-intensive program
This project's challenge was to propose innovative and high-quality architecture while respecting the numerous technical requirements specific to the facilities' nature. The program included a sizable television studio with long ceiling spans and particular acoustic requirements, a large server room, a rooftop antenna park which had to take into account neighboring buildings so as to not break lines of sights, lifts of adequate capacity to transport props and sets, as well as an open-area newsroom combining filming sets and work stations. Finally, specific precautions had to be taken to ensure the Maison could be open to the greater public while ensuring safety of facilities and equipment.