The Université du Québec à Montréal Campus
Context
The firm's culture of collaboration, which focuses on team spirit rather than individualism, has led to the completion of high caliber projects in collaboration with other architectural firms. Such a philosophy has made the firm a well-prepared resource for team management and consortium partnership. This formula began with the creation of the Université du Québec à Montréal campus in collaboration with Dimakopoulos & Associés, its first megaproject located in the heart of Montreal's Quartier Latin, which spans a period of almost 20 years.
Partners

Dimakopoulos & Associés
Période de réalisation
1973 — 1993

The main campus of the Université du Québec à Montréal (UQAM) was realized in three phases: phase I, the Hubert-Aquin and Judith-Jasmin pavilions (1972–1986); phase II, the Athanase-David building and Thérèse-Casgrain pavilion (1986–1992); and phase IIA, the Formation des Maîtres pavilion (1989–1993).
Achieving a symbiosis between citizen and university was the main (sociological) challenge of this architectural project, which was shaped by the university's policy of openness and desire to harmoniously integrate the neighbourhood. Situated atop the city's busiest transportation hub, the Berri-UQAM station, and located in the heart of the city's core, UQAM is an urban university. Inspired by the underground city at Place Ville-Marie and wanting the local population to use the university's passages, Jodoin Lamarre Pratte architectes developed an underground system of free movement. The result: a vast agora on four storeys that bathes in natural light and that skirts pedestrians. Called a "true-city university," UQAM respects the scale of its environment, preserves fragments of the old Saint-Jacques church (the façade, bell tower, transept and sacristy's woodwork) and encompasses the Chapelle Notre-Dame-de-Lourdes.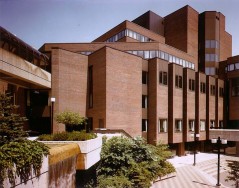 © André Tremblay
Transparency, accessibility, flexibility and mobility characterize UQAM's architectural approach. Phase I buildings, which are entirely covered in brick, a material more modest than greystone, are constructed across two vast lots in a Brutalist language. Phase II buildings, which together form a C around the old École polytechnique, express the more classic logic of façade subdivision but through a postmodernist lens. By opening up spaces to the street, phase II buildings maintain the urban fabric's commercial nature. In phase IIA, a twelve-storey tower juxtaposes glass and brick and accentuates the architectural heritage of the two previous phases.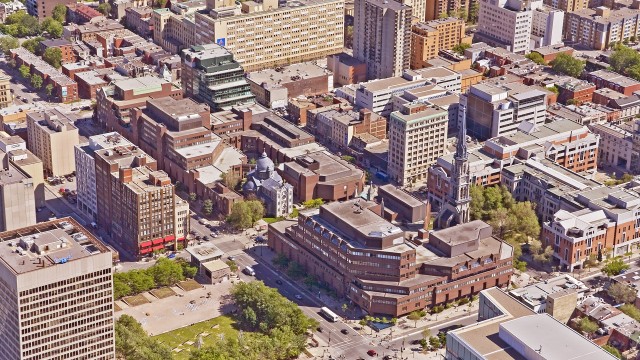 © Jean Mercier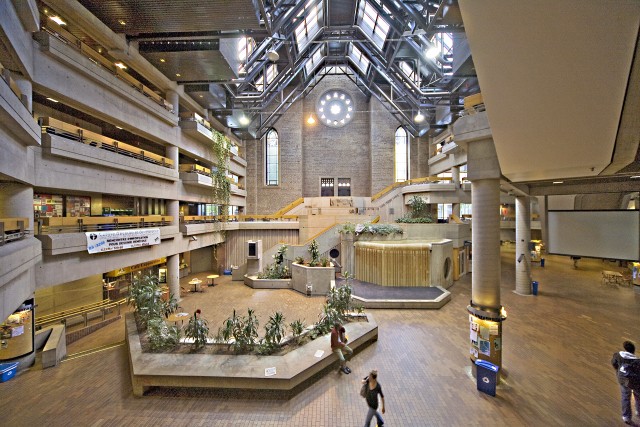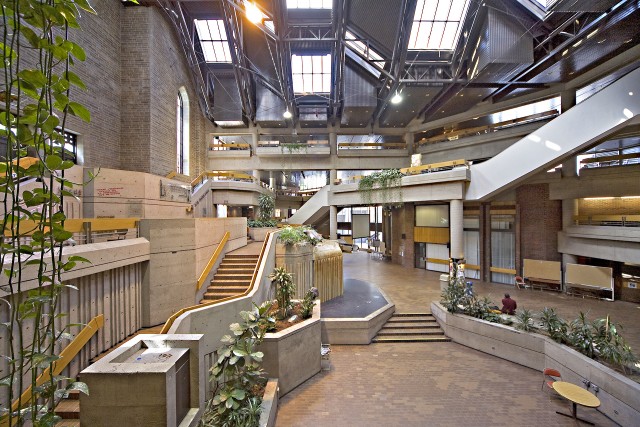 © Jean Mercier