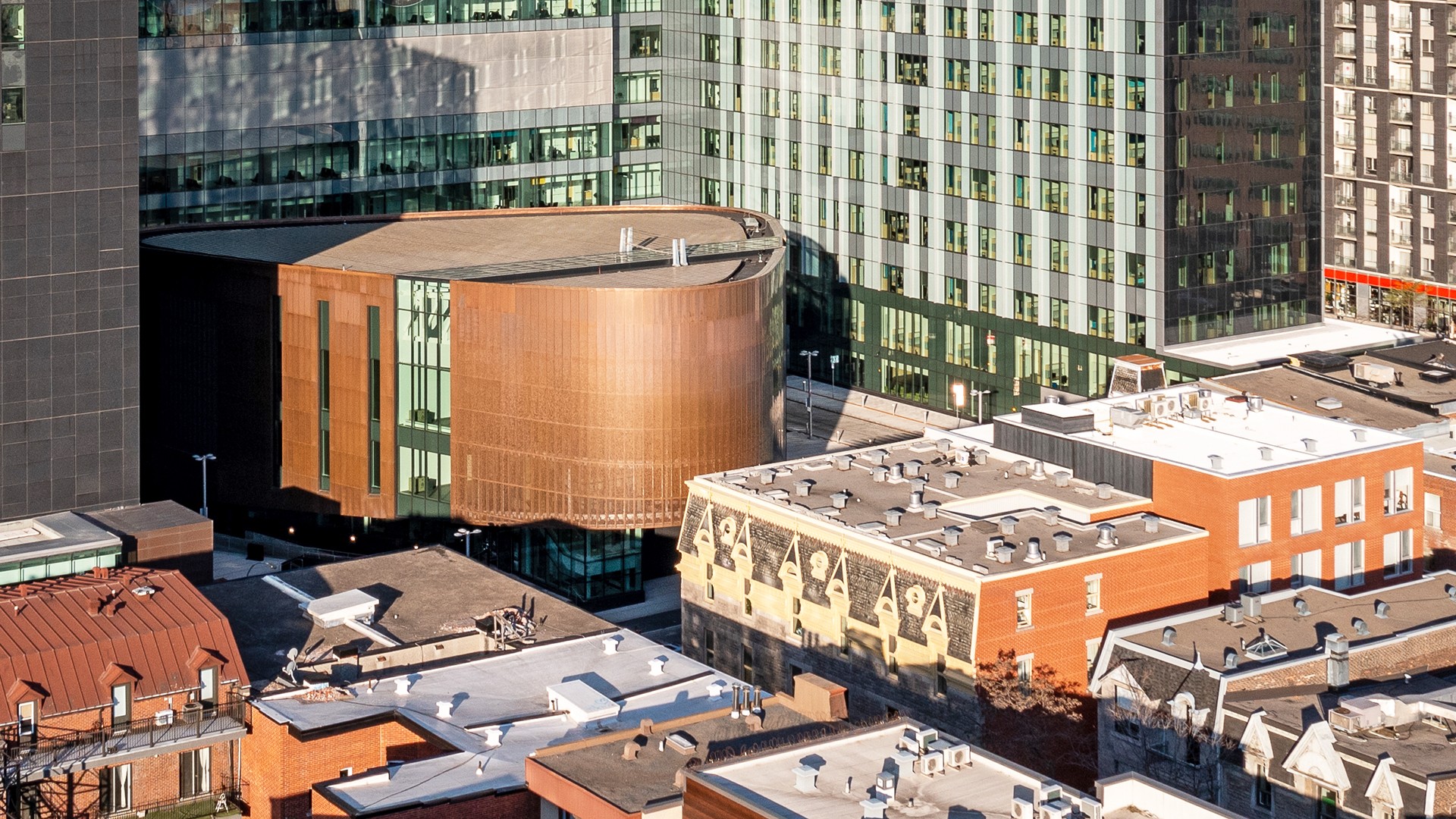 Ordre des architectes du Québec's Public Institutional Buildings Award and the People's Choice Award for the last phase of the new CHUM hospital complex
April 11th 2022
The project for the last phase of the new CHUM hospital complex —which includes the Pierre-Péladeau Amphitheatre— won the Public Institutional Buildings Award and the Public's Choice Award from the Ordre des architectes du Québec last Friday, April 8, at the gala that took place at the St-James Theatre in Montreal.
"The morphology and strategic position of the amphitheatre were the main reasons for the jury's attention in this last phase of construction of the new Montreal University Hospital Centre. With its well-calibrated height, its rounded walls and its partially perforated copper cladding like a lace in a warm autumnal hue, this building contrasts with the rectilinear towers that frame the esplanade and articulates new relationships with the adjacent urban fabric. The amphitheatre and the esplanade thus give back to the immense hospital complex that is the CHUM a welcome human scale in this high-density sector of downtown Montreal."
— Jury comment


A total of 12 projects were recognized at the OAQ Architectural Excellence Awards 2022.
Congratulations to the award winners for this great recognition and to the entire team that worked on this colossal project!


Design: CannonDesign + NEUF architect(e)s
Design review and finalization, execution and construction supervision: Jodoin Lamarre Pratte / Menkès Shooner Dagenais LeTourneux architectes en consortium
Construction: Pomerleau
Engineering: Pageau Morel et associés inc., SDK et associés
Landscape architecture: NIPpaysage


Since 1978, the Ordre des architectes du Québec's Awards of Excellence in Architecture program has recognized the essential contribution of architects and their clients to the quality of the built environment. Implemented on an annual basis since 2019, it aims to highlight exemplary architectural achievements designed by Quebec architects. It also contributes to raising public awareness of architectural quality and the role of the architect.