Expansion of our offices
Context
In response to the strong growth of our team, a 516 m² extension to our offices was built eastward on Rachel Street to add, among other things, several additional workstations, a spacious dining area, a coffee counter, a large glassed-in multifunctional room, a roof terrace, indoor bicycle storage space and showers for our cyclists. The design was guided by the desire to offer facilities conducive to the comfort, well-being and creativity of the staff, both inside and outside. It was also an opportunity to rethink and reorganize our spaces according to the team's new needs, to open them up and democratize them in order to provide a maximum of natural light to all occupants. Thus, interior refurbishment work on the main body of the building ―an industrial building located opposite the former Angus workshops― was carried out in continuity with this project and was completed at the end of the summer of 2020. A first phase of expansion, a wing extending southward on rue Dézéry, was built in 2008.
Scale

516 m² / 2,1 M$

Completion

2017 — 2019
© Jodoin Lamarre Pratte architectes
With more than 60 years of existence and nearly 130 employees, Jodoin Lamarre Pratte architectes is one of the largest architectural firms in Quebec and, since its creation, has defended the values of creativity, integrity, collaboration, and rigour. Developing responsible and sustainable architecture is part of an architect's social role, and the firm is committed to creating projects with a low carbon footprint, that favour access to natural light and that provide a healthy living environment for its occupants. This expansion was an opportunity for the firm to demonstrate its know-how, its ability to use cutting-edge construction techniques, its commitment to reducing greenhouse gas emissions, and its support for the Wood Charter, developed by the Ministère des Forêts, de la Faune et des Parcs.
The will to build the project in wood quickly emerged in the thinking process. This expansion was indeed an opportunity for the firm to continue developing its knowledge of this type of construction, to reduce the environmental footprint of its buildings, and to actively participate in the development of wood construction in the non-residential sector in Quebec.
Since wood construction is still frequently associated with an additional cost compared to other common construction methods, the firm then set itself the objective of building its expansion with a wood structure at a cost less than or equal to that of a concrete structure —structure of existing buildings—, and to document this process by a comparative cost study.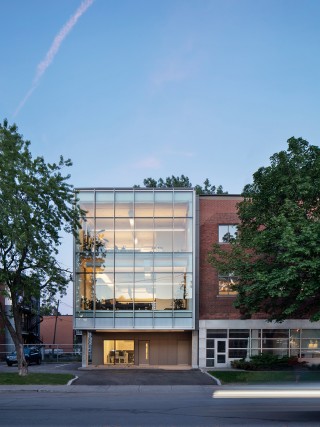 © Adrien Williams
Guided by the objective of building in wood at a cost comparable to that of a concrete structure, the integrated architect-engineer team —SDK in structure and Pageau Morel in electromechanics for the integration of electrical conduits into the structure—, in partnership with the company Structure Fusion, developed an innovative structural solution composed of a mixed structure of steel, concrete, and engineered wood that allowed the project to qualify for the Technology Showcase Program for Buildings and Innovative Wood Solutions of the Ministère des Forêts, de la Faune et des Parcs.
Inspired by the exposed concrete structure of the existing building, the structure is composed of composite structural slabs of nail-laminated veneer wood and concrete, resting on a glued-laminated timber frame. This innovative assembly offers spans similar to those of a concrete structure, but with thinner slabs and better acoustic properties. The structural concept developed allows for the construction of large volumes with few columns. Together, the firms have created a structure that is both refined and warm through the use of wood, which offers an open working environment and a grid similar to that of the existing building.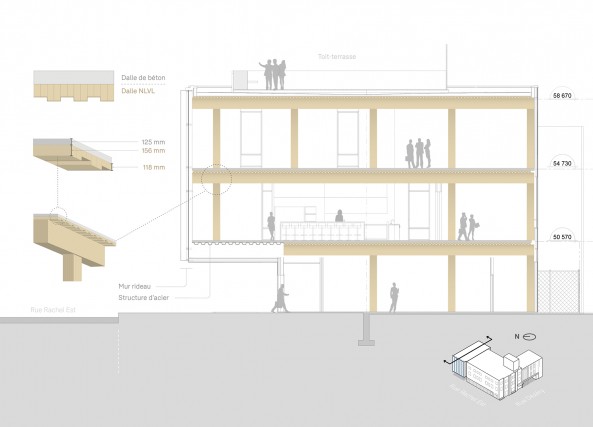 © Jodoin Lamarre Pratte architectes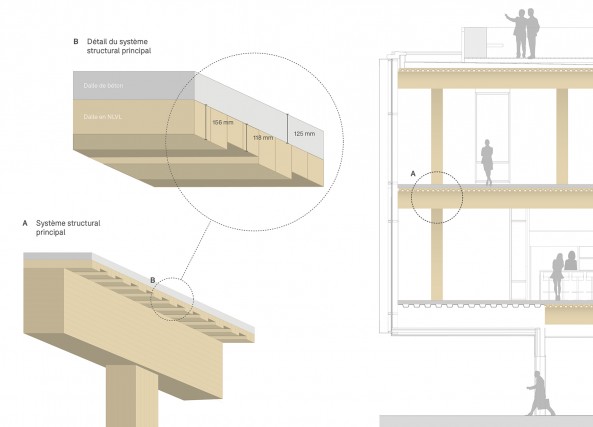 © Jodoin Lamarre Pratte architectes
The main structural system is composed of glulam beams and columns that support mixed structural slabs of nail-laminated veneer lumber (NLVL) and concrete. NLVL slabs are inspired by the nail-laminated timber technique but differ from it by using a nail-laminated veneer assembly instead of standard lumber. This solution makes it possible to use a lower grade of lumber —1.55E grade trembling aspen— where the presence of more visual defects is compensated for by the structure of the assembly: only the lower edge of each piece is visible. To compensate for the lower structural strength of the NLVL slab, it was coupled to a concrete slab. The two slabs are mechanically connected using screws and notches in the wood. The roof slab is 100% NLVL.
To this main system are added a concrete slab on the first floor, a steel structure (decking and columns) on the second floor to support the overhang, a cross-laminated wood bracing for the stairwell, and a steel bracing at the rear of the building.
The NLVL slab, in addition to its structural role, plays an important aesthetic and acoustic role. In order to improve acoustics in open work areas and to create a rhythm in the architectural composition, it was decided to add a grooved profile to the slab, alternating pieces of 118 mm and 156 mm thick.
© Adrien Williams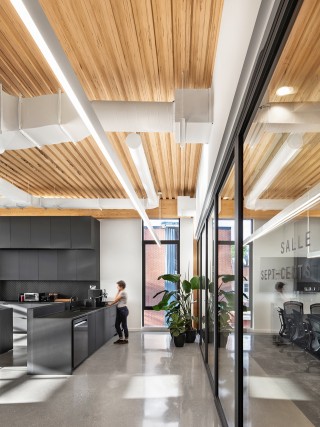 © Adrien Williams
© Jodoin Lamarre Pratte architectes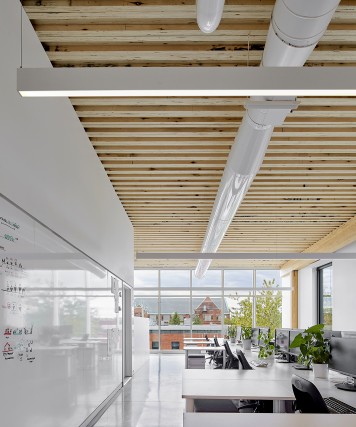 © Nanne Springer
© Nanne Springer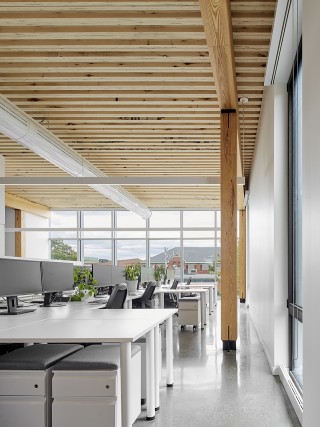 © Nanne Springer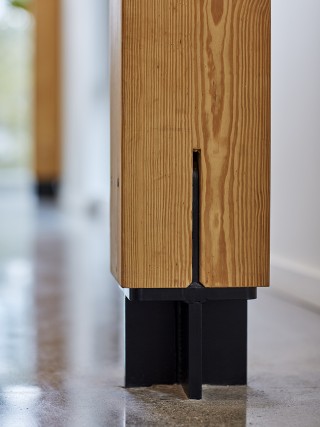 © Nanne Springer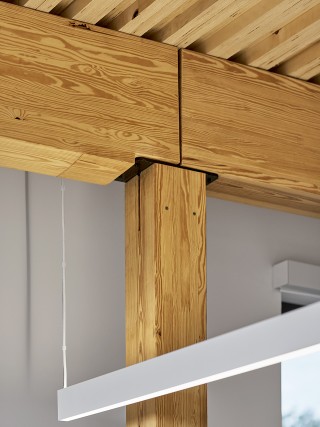 © Nanne Springer
© Nanne Springer
With the completion of this project, the team demonstrated that it was possible to explore new wood construction techniques in order to find a less expensive alternative to a cross-laminated or nail-laminated wood structure: use of a lower grade of wood 30% less expensive than the most common grade and cost per m² of concrete reduced by approximately 55% compared to a conventional concrete structure. In addition, the structural concept generated savings related to the erection of the building.
The financial performance of the innovative custom-developed structure combining wood, concrete, and steel was the subject of a comparative analysis of construction costs with a standard concrete scenario, which filled a gap in the current literature on wood construction in Quebec. In addition, wood was exploited in its structural, aesthetic, and acoustic applications. The grooved (or saw-toothed) profile designed for the lower part of the slabs improves sound absorption compared to a flat surface and brings rhythm to the architectural composition. The qualities of wood were also used to diffuse natural and artificial light to maximize the comfort of the occupants.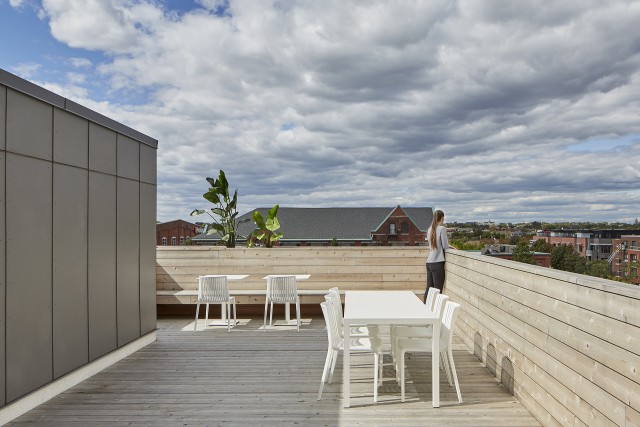 © Nanne Springer
Red cedar, which has superior resistance to warping, twisting and splitting, is used for siding as well as for the construction of the integrated furniture on the roof terrace of the expansion —a friendly place used by employees during breaks or for events.
In addition to adapting to wide variations in climate, this species of wood has an essential oil that acts as a barrier against mould, and acoustic properties that dampen sound transmission. Red cedar is renewable and generally comes from regulated operations in Western Canada. It does not require staining or varnishing to protect it, it will naturally turn gray over time.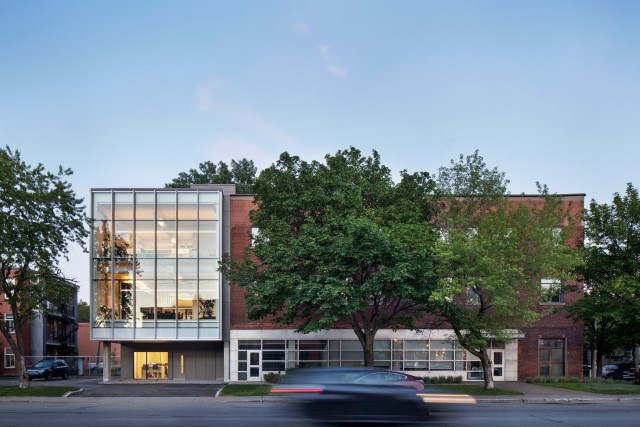 © Adrien Williams
From Rachel Street, the glass facade protrudes from the existing building. Mounted on a pedestal, this creative showcase animates the evolving sector and exposes the technological advances of hybrid wood construction while offering light and floor/ceiling exterior views to users. At night, the volume becomes a light box, the theater of the activity that takes place there.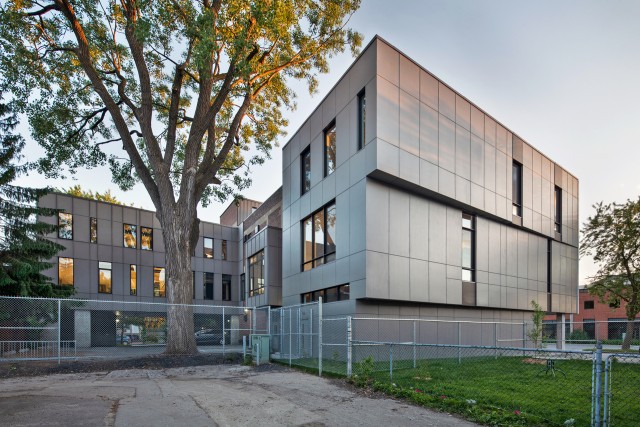 © Adrien Williams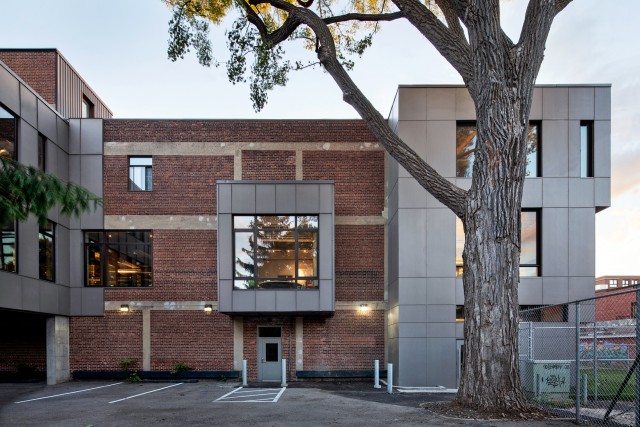 © Adrien Williams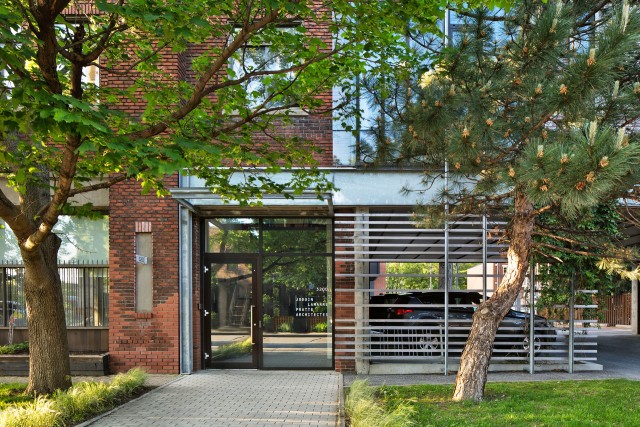 © Adrien Williams (agrandissement 2008)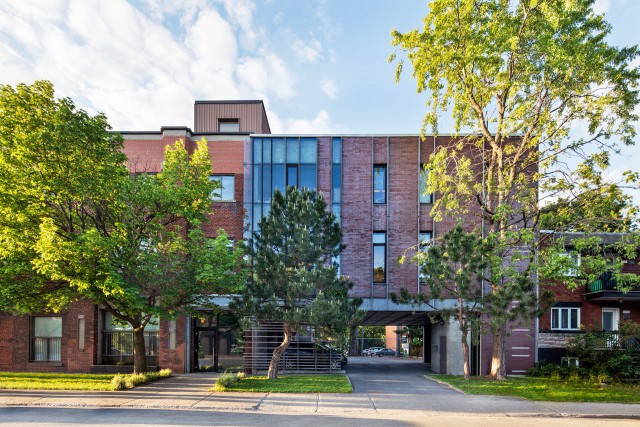 © Adrien Williams (agrandissement 2008)
Awards and Distinctions
Grands prix du design, Lauréat Or (finalist) in the category Special Awards / Valuation of wood in architecture - 2021
Grands prix du design, Lauréat Or (finalist) in the Commercial/Office Building category (< 5 floors) - 2021
Cecobois Excellence Award, finalist in the Innovative Solutions category - 2021
Cecobois Award of Excellence, finalist in the Commercial Building — less than 1000 m² category - 2021
Technology Showcase Program for Buildings and Innovative Wood Solutions of the Ministère des Forêts, de la Faune et des Parcs - 2018