Housing for the Grey Nuns of Montréal
Context
Winner of a private call for tenders conducted by Devencore NKF, this project was developed according to an integrated design process in partnership with a promoter/operator team that was to take over the operation and maintenance of the building over a period of 30 years. Located on the former grounds of the Angus Shops, the proposed project was developed in continuity with adjacent properties situated on an expansive site. The result displays an unbroken urban front on St-Michel Boulevard and William-Tremblay Street, as well as green spaces in interior courtyards on Canadien-Pacifique Street. The area plan takes the form of an inverted "F" with southwest orientation, thereby maximizing sunlight for residents and creating two split courtyard gardens with a tree-lined, southwest border. This allows for an opening to the surroundings, while maintaining a sense of privacy.
Scale

10 500 m² / $20 M

Completion

2010 — 2013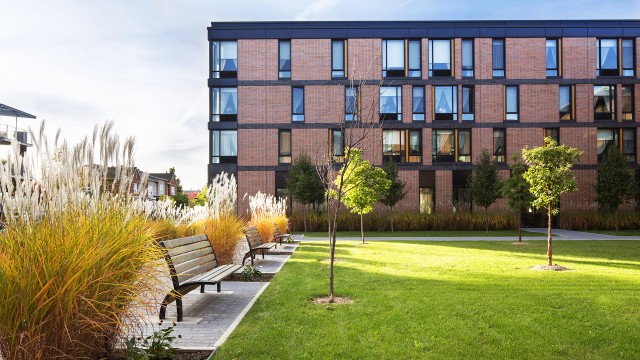 © Stéphane Groleau
This project addressed the accommodation needs of the Grey Nuns of Montréal through the design and construction of an addition to the site of the Apartments of Angus Square, an existing retirement home complex dating from 2003 and located in the Angus sector of the city. Previously established at their motherhouse on Guy Street in Shaughnessy Village, the Grey Nuns acquired the Apartments of Angus Square in 2011 for their imminent relocation. Once the addition was completed, the majority of close to 200 nuns moved to the new wing, while others were integrated into the secular setting of existing onsite apartments.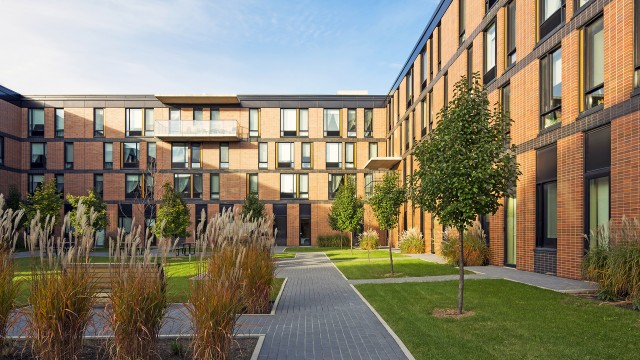 © Stéphane Groleau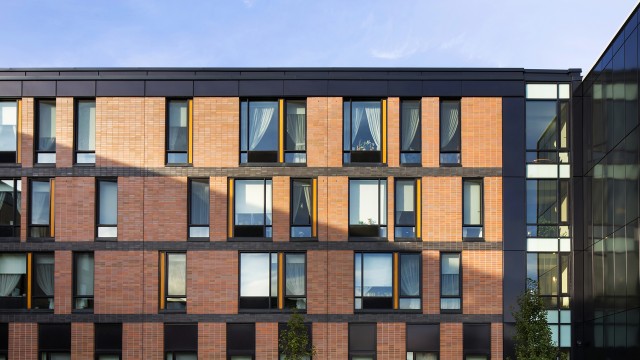 © Stéphane Groleau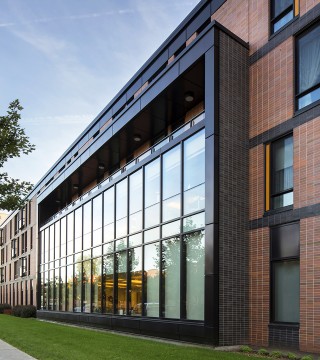 © Stéphane Groleau
In brief, the building program of this 10,500 m² new construction dedicated to the Congregation of the Grey Nuns of Montréal has 159 units: 36 rooms meet long-term care needs; 13 rooms are for intermediate care (assisted-living); and 110 studios cater to autonomous living. Various common areas include a library, dining halls, chapel, and reception area. As for layout, the ground floor contains the long-term care units for those unable to look after themselves, as well as common areas grouped into three wings and divided in two distinct parts: the first dedicated to sisters with cognitive problems, and the second providing controlled access to the adjacent gardens. The upper floors house the rooms for intermediate care and studios designed to meet universal accessibility standards. Graced with living rooms and kitchenettes, these spaces have also been developed like veritable hanging gardens, with generous views of surrounding urban life and green spaces.
The project, completed in 2013, also includes the enlargement of the dining hall for the existing complex, a mandate subsequent to the construction of the Housing for the Grey Nuns and required due to the increase in residents.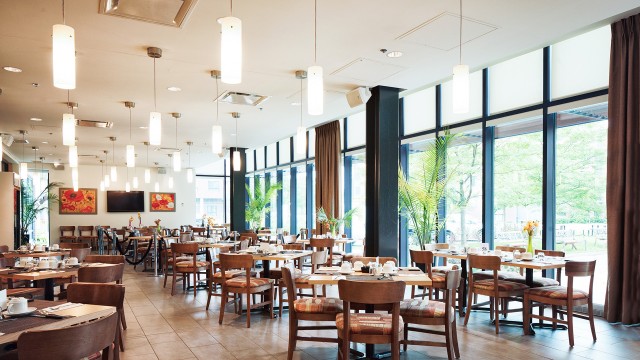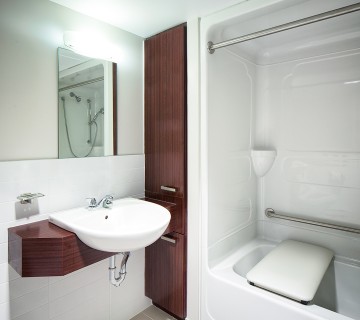 © Stéphane Groleau