Maisonneuve-Rosemont Hospital's Raymond-Barcelo Integrated Dialysis Centre
Context
The Hôpital Maisonneuve-Rosemont treats ten percent of all dialysis patients in Quebec. A pavilion consolidating all of the dialysis department's activities was awaited for 20 years, while patients suffering from kidney failure were treated in prefabricated trailers with few windows. Designing the Raymond-Barcelo Integrated Dialysis Center, the largest center of its kind in Quebec and the most advanced in the country, was a privilege. With the objective of offering an optimal care environment, conducive to well-being and bathed in natural light, to both patients and staff, our team was dedicated to delivering state-of-the-art equipment to the Quebec population.
Scale

7 022 m² / 32 M$

Completion

2014 — 2019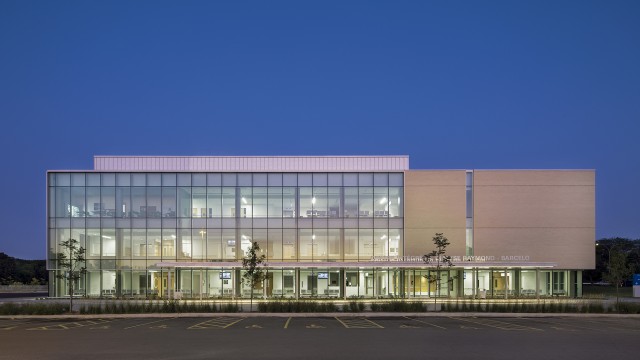 © Adrien Williams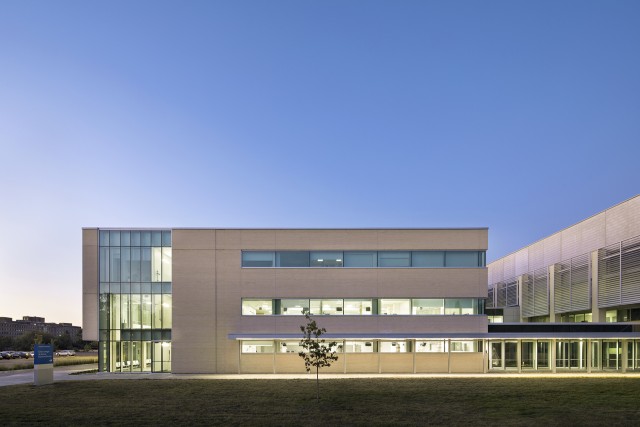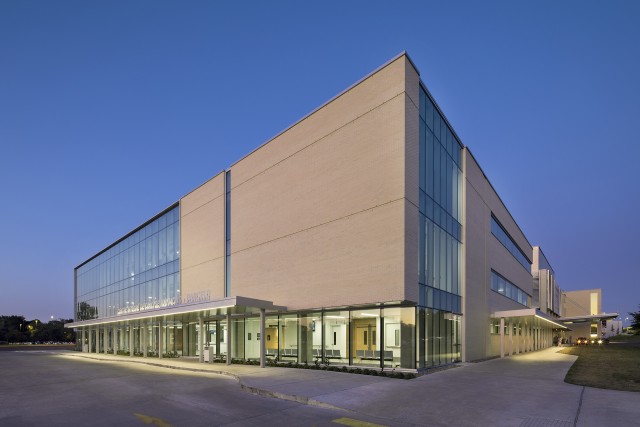 © Adrien Williams
Program
The Raymond Barcelo Integrated Dialysis Center gathers in one building all activities related to the treatment of people suffering from kidney failure. It allows the Hôpital Maisonneuve-Rosemont, a center of excellence in nephrology, to treat 200 patients per day and up to 70 patients simultaneously. The pavilion features hemodialysis treatment areas, including isolation areas with airlocks for infectious or immunosuppressed patients, teaching and staff areas, pre-dialysis clinics, continuous ambulatory peritoneal dialysis and training clinics so that patients can perform their dialysis at home —4 stations— as well as administrative and reception areas and technical areas.
This grouping of all dialysis-related activities and their proximity promotes synergy between specialists in this cutting-edge field and optimizes the operation of the renal replacement unit. The pavilion is also well integrated with the rest of the hospital thanks to its connections with the Ambulatory Care Centre. It is connected by a glass walkway on the first floor, a footbridge on the second level for patients and staff, and by an underground tunnel through which employees reach the changing rooms and which is also used for supplies.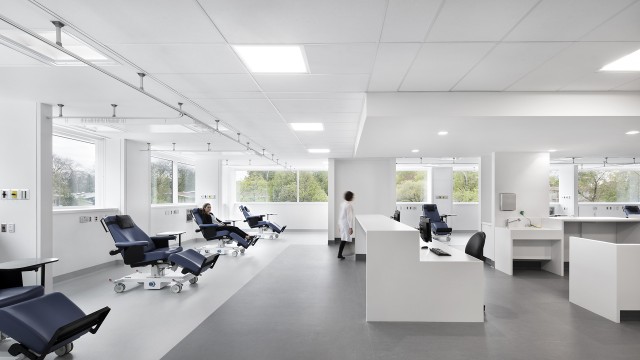 © Adrien Williams
Natural light and wayfinding
Patients receive three hemodialysis treatments per week, each of which lasts approximately four hours. Designing quality spaces that promote the well-being of all occupants, where natural light plays an important role, is at the heart of our architectural approach. In addition to creating landmarks that are essential for proper spatial orientation, contact with the outdoors and nature is beneficial to the health of patients, and helps reduce stress and fatigue for caregivers, offering them a better quality of life and contributing to their retention.
Following this approach, patients were positioned towards the courtyard garden created between the pavilion and the existing Ambulatory Care Center. Reception and waiting areas were placed on the periphery of the floor areas to facilitate orientation and reduce travel distances for this clientele with very reduced mobility. The window sills were lowered in several places, providing larger glass areas, and treatment rooms that do not have direct views of the outside were equipped with high glass strips to let in natural light. Finally, the corridors lead to exterior views, which also facilitate orientation inside by creating landmarks, in addition to providing well-being for users.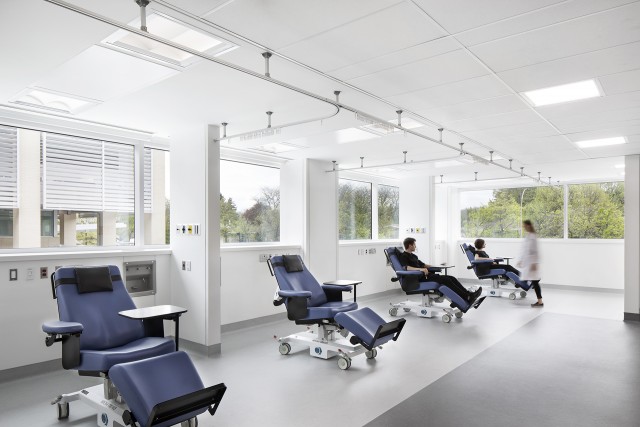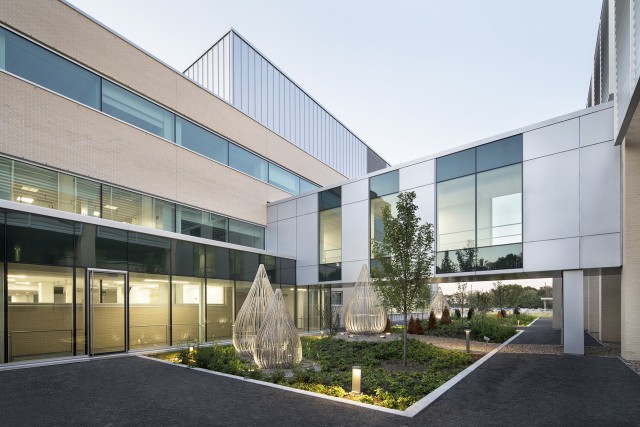 © Adrien Williams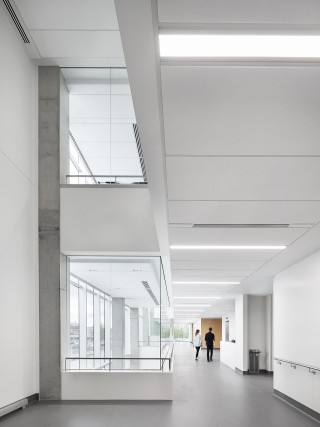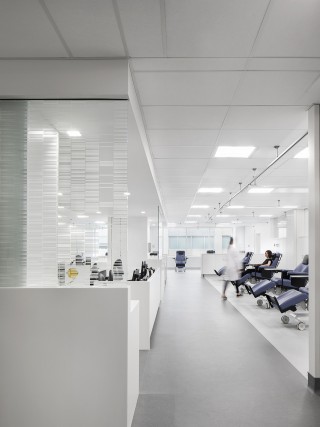 © Adrien Williams
"The Hôpital Maisonneuve-Rosemont has become over the years a world leader in nephrology, renal failure and hemodialysis, so I'm happy that patients have exceptional views, brightness and light.
It's a lot of time for a patient to spend (patients receive three hemodialysis treatments per week and each visit lasts about four hours), so having a pleasant environment is good for their health. It's good for morale, it's good for mental health and it's good for the staff as well. »
(At a press conference, excerpt from Le Devoir)
―Danielle McCann
Ministre de la Santé et des Services sociaux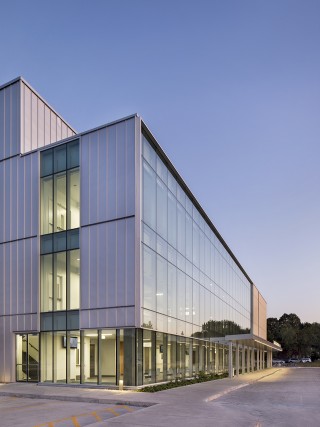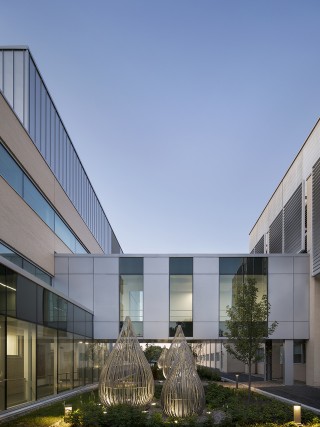 © Adrien Williams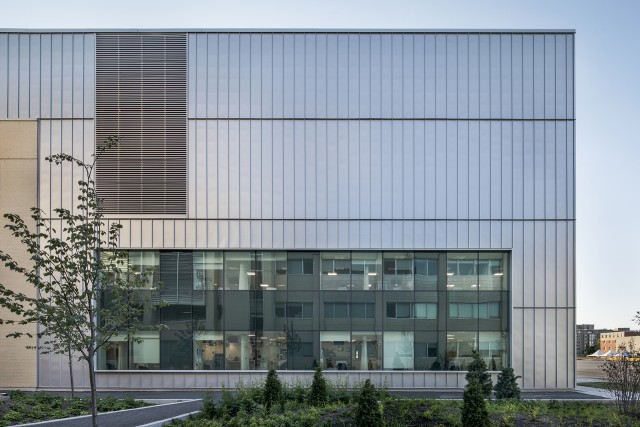 © Adrien Williams
Universal Design
It was originally planned that the dialysis department's drop-off area would be combined with that of the Ambulatory Care Centre, which would have caused many accessibility problems for a mobility-impaired clientele. With the help of a traffic consultant, we demonstrated that heavy congestion at this entrance was detrimental to the safety of dialysis patients as well as to all persons accessing the hospital. A new drop-off area reserved for the service was built in front of the west façade of the pavilion, and extensive work was done with user groups to ensure that patients could easily find their way from the main entrance to the reception and waiting area in the double-height space. We have also conducted studies to reduce travel times from the beginning to the end of a treatment.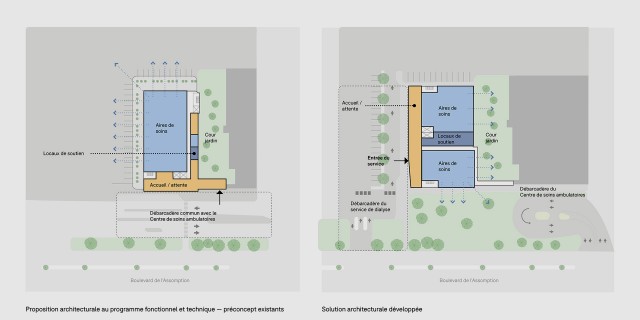 The interdisciplinary team worked in a spirit of continuous collaboration to deliver a building that successfully meets all hospital requirements. The facility's renowned nephrology team now has a high quality facility where patients can receive state-of-the-art treatment with dignity and respect in a bright, naturally-lit environment.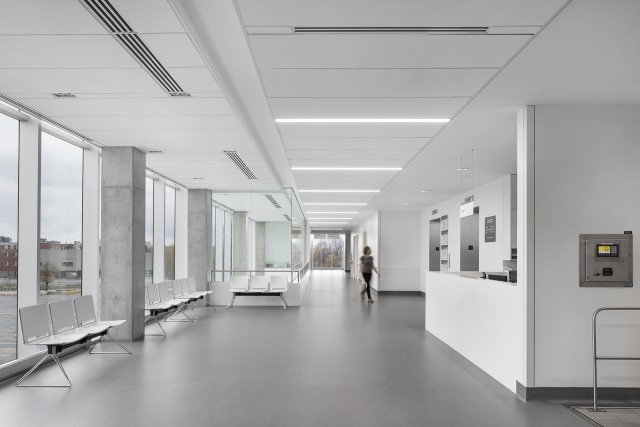 © Adrien Williams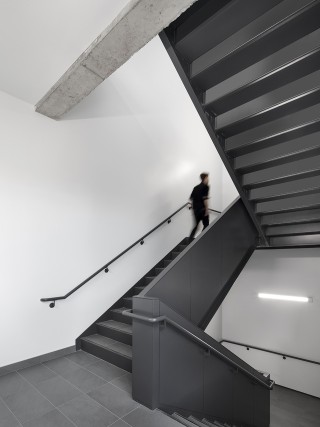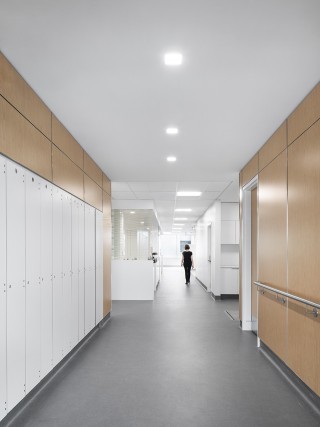 © Adrien Williams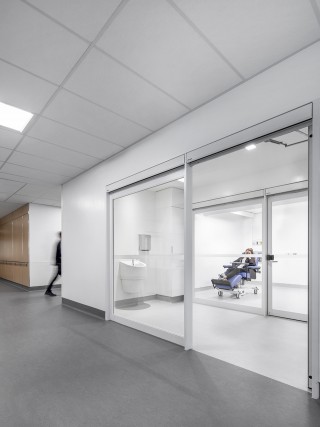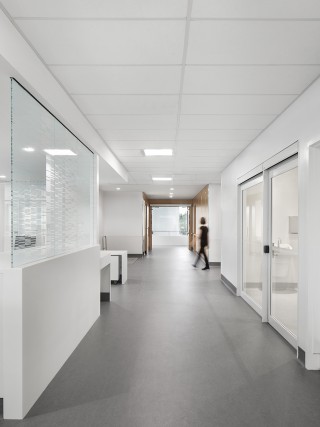 © Adrien Williams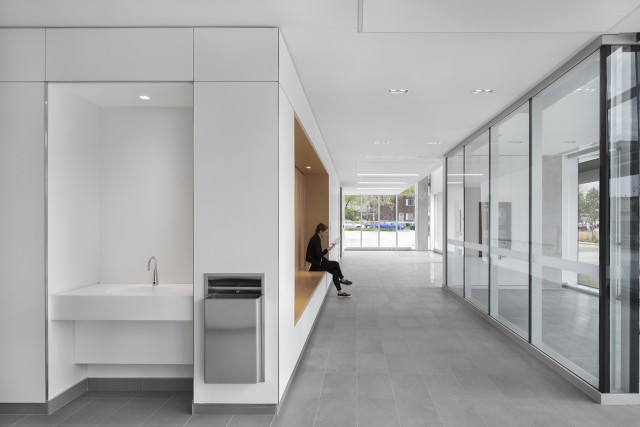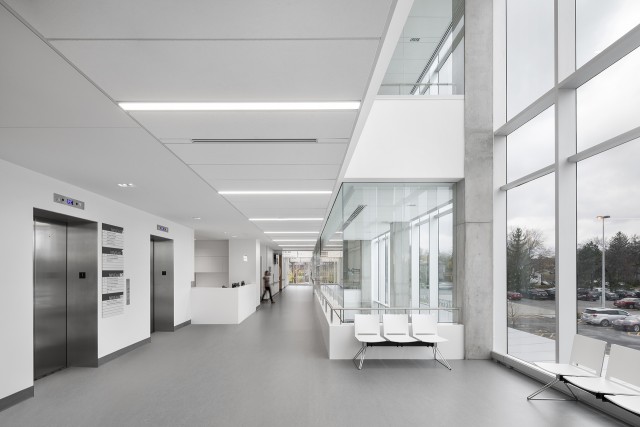 © Adrien Williams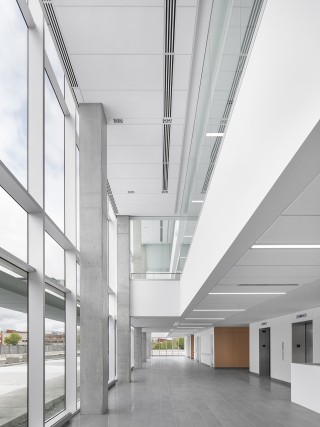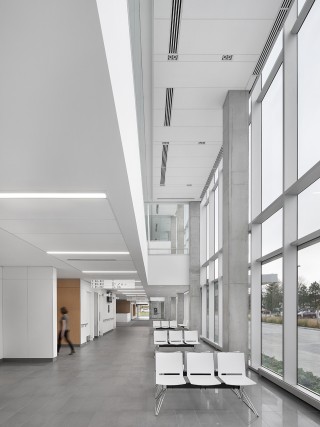 © Adrien Williams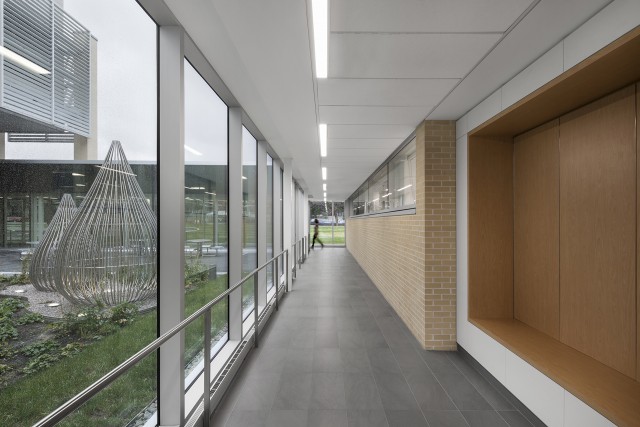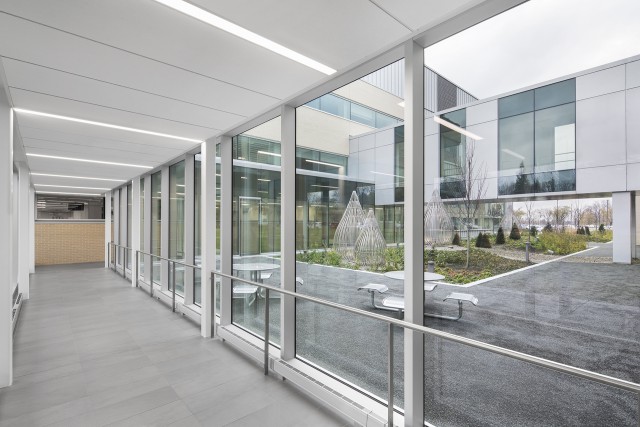 © Adrien Williams
The plans were developed in BIM on REVIT to ensure daily control of areas and costs, in addition to closer technical coordination with the engineers' plans and those of other consultants.
The project, from design to construction supervision, was entirely carried out by Jodoin Lamarre Pratte architectes. The firm has been working at the Hôpital Maisonneuve-Rosemont for over 10 years and its projects include the Centre of Excellence for Cellular Therapy and the [Expansion of the Radiation Oncology Department](Expansion of the Department of Radiation Oncology at Hôpital Maisonneuve-Rosemont/).