New hospital complex on the site of the Hôpital de l'Enfant-Jésus in Québec City
Context
The new hospital complex in Quebec City will optimize healthcare services currently provided in two different hospitals within a single hospital campus on the site of Hôpital de l'Enfant-Jésus. 180 693 m² will be built and 27 492 m² of existing spaces are scheduled for refurbishment. The project, which is being carried out in several phases, includes the construction of an integrated cancer treatment centre, a new thermal power plan, a building for generators, a critical care pavilion, a clinical-logistics platform, and a research center.
Location

Partners

Groupe A, DMG, Lemay, NFOE, GLCRM (Groupe AES)
Scale

208 200 m² / 1,3 milliard$

Completion

2015 — 2029
© CHU de Québec — Accelerated video of the new hospital complex's construction o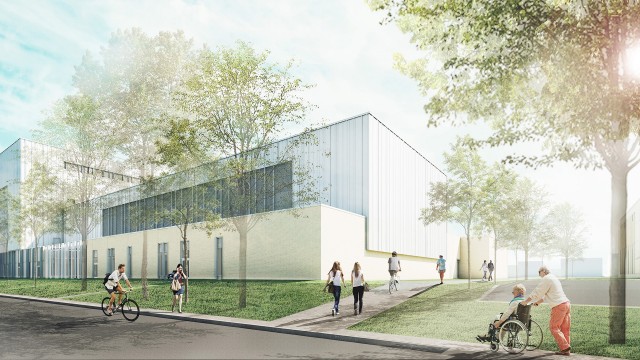 The cancer centre gathers the main specialized and super-specialized cancer outpatient care services, including a radio-oncology bloc, as well as teaching and training services. In an effort to integrate cancerology research activities and to bring them closer to medical realities, the center is equipped with a cyclotron to produce medical isotopes for both research and care, a positron emission tomography (PET) scan dedicated to research, large scale wet labs on several levels as well as specialized services platforms for fundamental research.
A LEAN process was started during the functional and technical programming stage. Workshops and Kaizen activities were organized with the clinicians in charge of radio-oncology to fully understand existing services and optimize them.

The elements of phase 2 will consolidate the activities and services currently spread throughout the different sites of CHU de Québec. This will resolve some problems linked to the multiplication of management systems and to the long travelling distances, leading to improved working conditions for the hospital staff and better quality of patient services and care. A critical care pavilion consolidates the emergency room, the operating theatre, intensive and intermediary care units as well as all related technical platforms within highly functional spaces. The project also included a new research center which contributes to the institution's influence as an innovation hub for medical research. Finally, a clinical-logistics platform hosts services for pharmacy, catering, storage, printing, and office supplies distribution. The second phase will end with the refurbishment of part of the existing Hôpital de l'Enfant-Jésus.
This ambitious project —whose construction is planned over more than 10 years—, includes different components : the clinico-logistical platform (2020), the Integrated Cancer Center (CIC), a new power plant and generators building (2021), the cyclotron, the research centre and the lodging services (2022), the critical care pavilion (2024), and the refurbishment of the Hôpital de l'Enfant-Jésus (2029).
Within the consortium formed by Groupe A, DMG, Lemay, Jodoin Lamarre Pratte architectes, NFOE and GLCRM, our firm was responsible for programming and designing the CIC. She was also responsible for designing, executing and supervising the construction of the critical care pavilion's envelope.