Reconstruction of facades and expansion of the Residence Inn Marriott
Context
The expansion, repair and renovation of the facades of the Marriott Residence Inn, located on Peel Street between De Maisonneuve Boulevard and Sherbrooke Street in downtown Montreal, was completed in February 2015. This large-scale expansion and refurbishment project realized by Jodoin Lamarre Pratte architectes included the construction of two additional floors (the 23rd and 24th floors), adding twenty rooms to the hotel; the complete reconstruction of the glass wall on the ground floor; as well as the redesign of the restaurant and hotel reception. The latter works had become necessary among others due to a building accident.
Scale

13 000 m² / 16 M$

Completion

2012 — 2015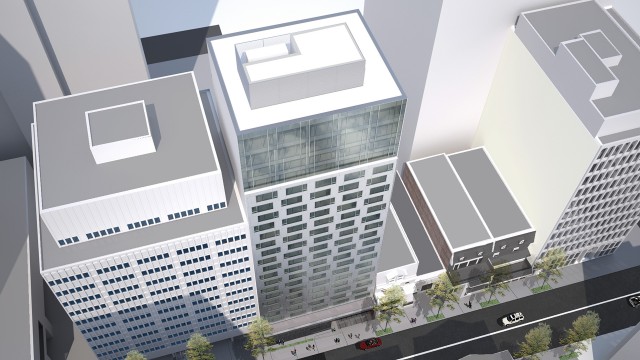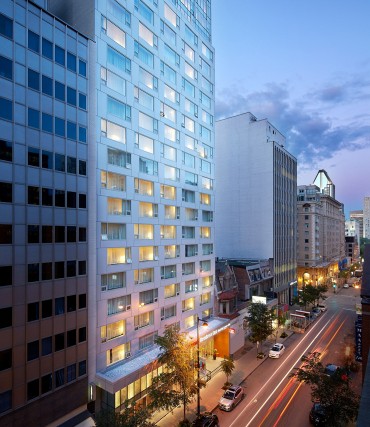 © Residence Inn Marriott
The redesign of the facade––prompted by a fatal accident that occurred in 2009––involved replacing the old cladding made of prefabricated concrete panels with large windows and light aluminum siding. The accident was caused by the fall of a panel that had detached itself from the 18th floor. (It is worth mentioning that the grave consequences of the accident contributed in part to the implementation of a new regulation of the Régie du Bâtiment du Québec requiring the regular inspection of facades of buildings five floors and higher.) One of the main challenges of the building overhaul was to ensure the proper alignment of the cladding with the building height while also implementing a system that could absorb alignment gaps between the flooring and the storeys. The construction of the two additional floors involved a curtain wall and side walls made of prefabricated concrete panels, which facilitated a rapid execution and ensured public safety.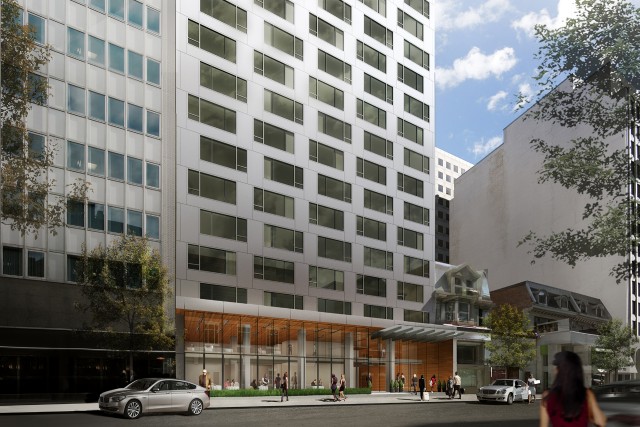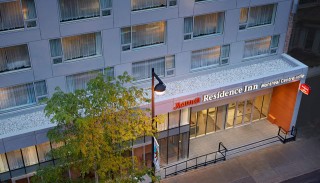 © Residence Inn Marriott
The facade on Peel Street was redesigned such that each room now has one large window rather than four smaller ones and that it "enhances the aesthetics of the building as a whole," according to the management of the Marriott.