Restauration of the bell tower of Olier Pavillion at Hotel Dieu de Montréal
Context
The firm provided services for the design, drafting of plans and specifications, and site supervision for the restauration of the bell tower of the Olier pavilion at Hôtel-Dieu de Montréal, built in the 1920s. Hôtel-Dieu is Montréal's oldest hospital. Founded in 1645 by Jeanne Mance, it was moved to its current site between 1859 and 1861. The work of the tinsmiths from Toiture Trois Étoiles was awarded the Prix d'Excellence de l'Association des Maîtres Couvreurs du Québec.
Scale

300 000 $

Completion

2017 — 2018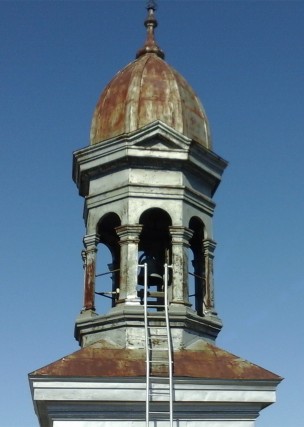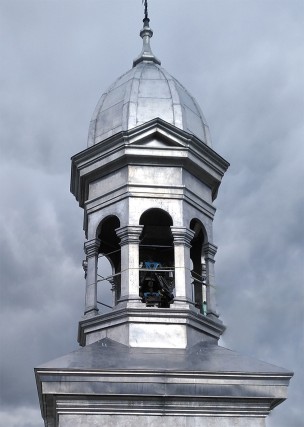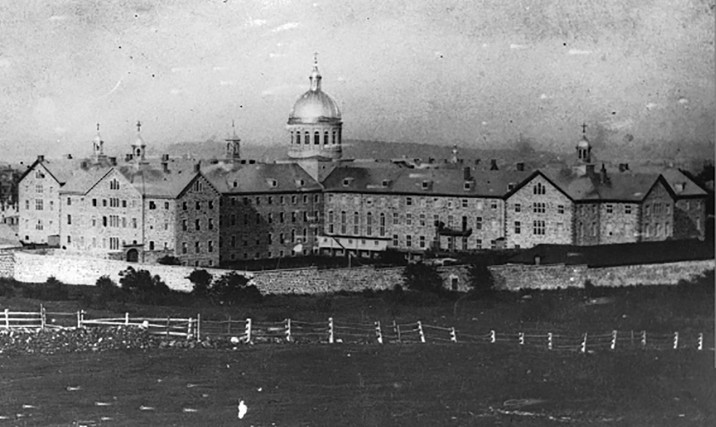 © Wikimedia Commons - Hôtel Dieu de Montréal in 1865
The goal of this restauration was to achieve a result that was very respectful of the original object, while ensuring the structure's viability and its longevity. Therefore, the team combined historical craftmanship and the use of modern high-performance materials. Assembling details were designed with meticulous care to guarantee good water evacuation and ensure a long-lasting healthy structure. Then each detail was reworked on at the construction phase with the roofing contractor, to ensure faithful reproduction of the sheet metal ornaments.
The bell tower's wooden structure and the bell support were old and fragile. They were consolidated while conserving the original materials and structural logic. The bell tower's covering was originally in welded galvanized steel, a construction technique that is no longer available nowadays. Thus, the team opted for a covering made of tinned copper whose visual result is very faithful to the original aspect and configuration. Finally, discreet architectural lighting fixtures were integrated to display the bell room without competing with the lighting of the pavilion's main dome.