Regional Cancer Treatment Centre at the Rouyn-Noranda Hospital
Context
This new cancer treatment centre built on the site of the Rouyn-Noranda Hospital opened its doors in November 2022 in order to widen the range of locally-available care. As the only facility offering radiotherapy services outside of major urban centres, it facilitates access to specialized care, thereby improving treatment conditions and the quality of life of many people and their loved ones. The Centre's activities are carried out with the support of the McGill University Health Centre (MUHC), which participated in the design of the project.

With the delivery of seven major projects in the last decade, the design and execution of integrated cancer treatment centres has become one of the biggest expertise of the firm, recognized as the best in Québec.
Location

Partners

TRAME Architecture + Paysage
Scale

3 085 m² / 26 M$

Completion

2018 — 2021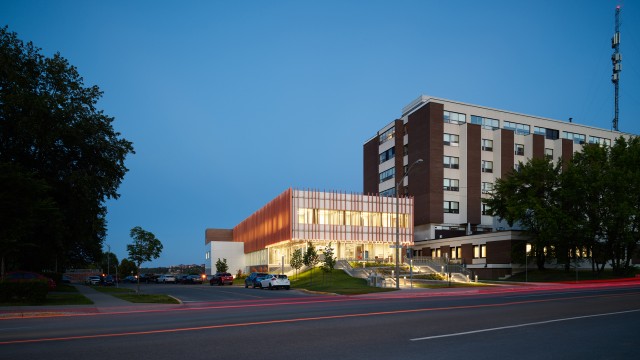 © Adrien Williams
Connected to the existing hospital by the basement and the first floor, the cancer treatment centre is spread over three levels. The building includes reception, waiting, consultation and examination spaces; a hemato-oncology treatment area (chemotherapy) with an oncology pharmacy; a technical platform composed of planning, simulation, radiation oncology treatment and medical physics sectors; a clinical-administrative area and support premises. Although a street landing is dedicated to the main entrance, inter-hospital transfers are facilitated at the rear of the building from the existing parking lot. The location of the centre and its footprint have also been studied to consider future developments on the site —such as the possible addition of a third radiation oncology vault— as well as to preserve as much of the existing parking area and the view of the lake for the residents of Chemin Trémoy.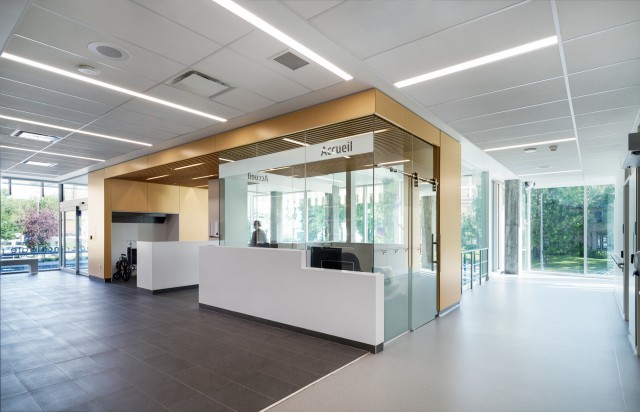 © Adrien Williams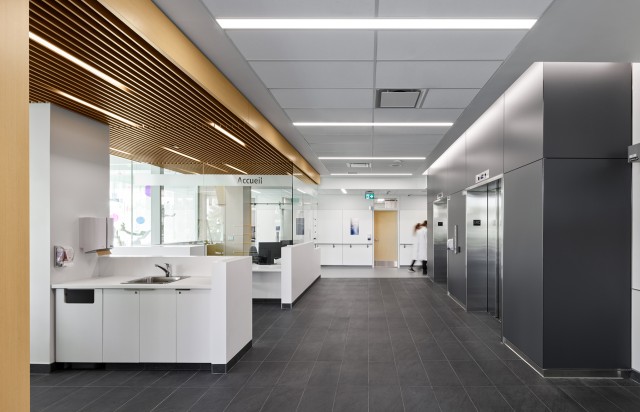 © Adrien Williams
The architectural design was rooted in the application of several principles dear to our practice:
To provide a human, welcoming and warm environment for patients and caregivers: abundance of natural light and views of the landscape — especially in the chemotherapy treatment areas, green roof, a clean environment through the careful integration of specialized medical equipment, and sobriety in the choice of materials and coloring.
To facilitate the orientation of patients in the spaces: the main corridors are glazed and they have been aligned in plan on all levels.
To ensure the proper integration of public art into the architecture: a double-height space allowing natural light to reach the basement —where radiation oncology treatments take place— was reserved for the installation of a work of art that would connect this level to the first floor near the main entrance, so that the art would be highlighted and accessible to as many people as possible.
To integrate the building into its environment and give it a human scale: the volumetry and fenestration of the façade on Chemin Trémoy were developed to adapt to the residential nature of the street.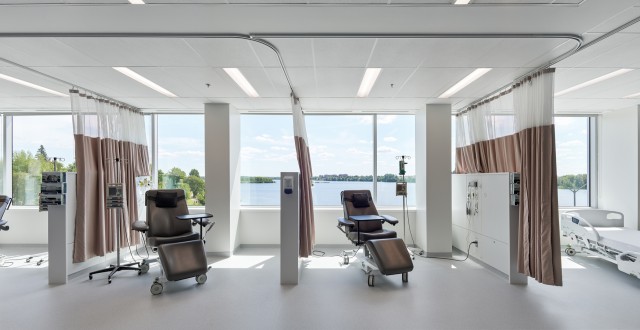 © Adrien Williams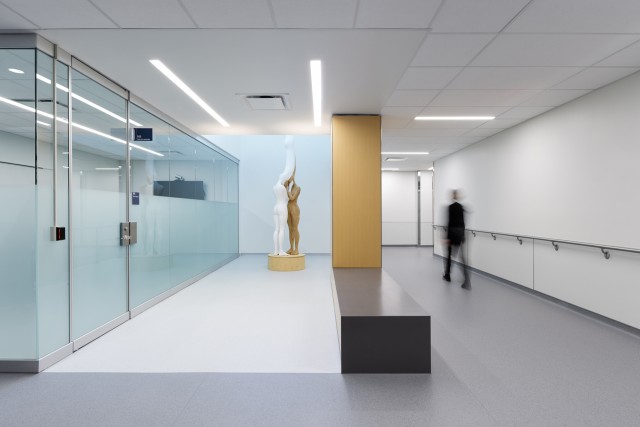 © Karine Berthiaume, "Courage and affection", 2021, Wood, lacquer, dichroic glass and steel, 2.40 x 6.7 m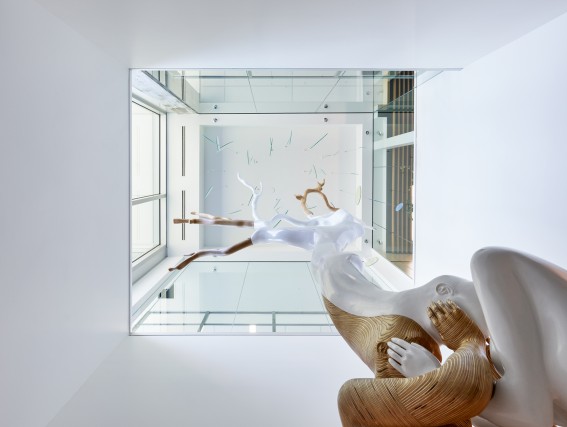 © Adrien Williams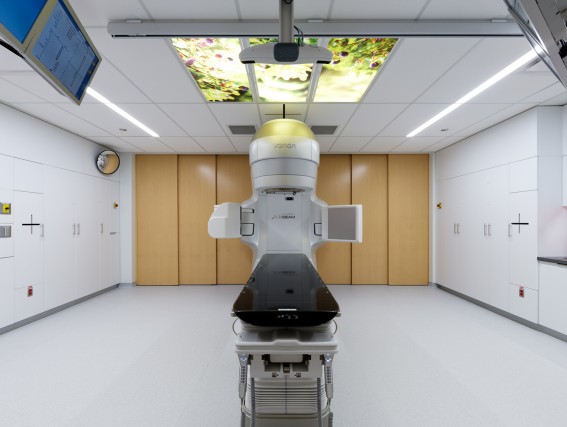 © Adrien Williams (linear accelerator)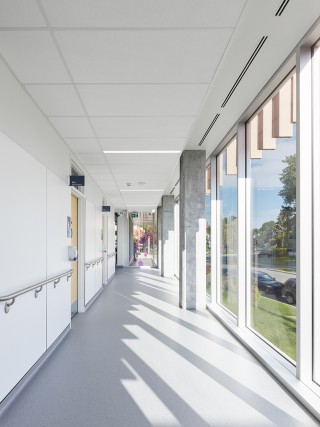 © Adrien Williams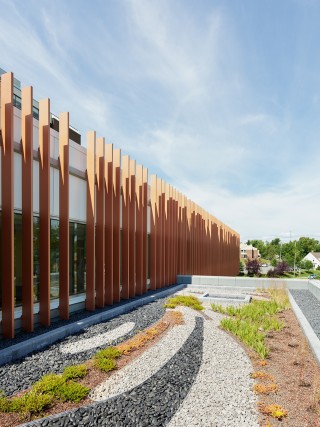 © Adrien Williams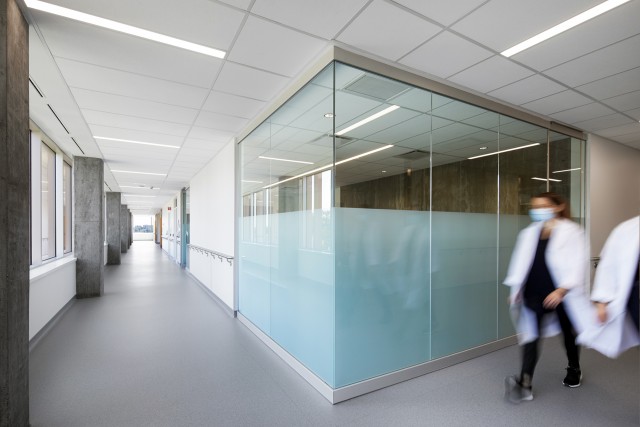 © Adrien Williams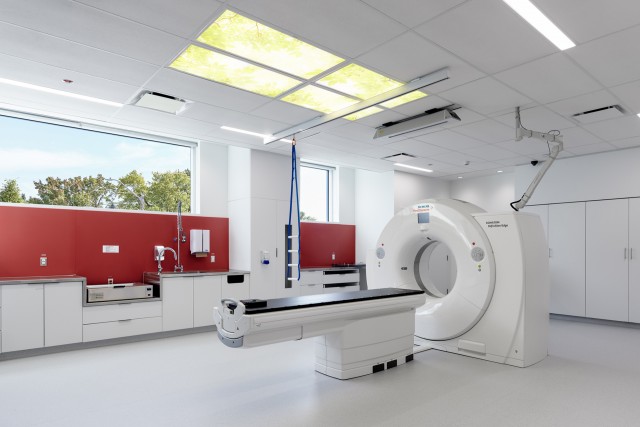 © Adrien Williams (CT-SIM)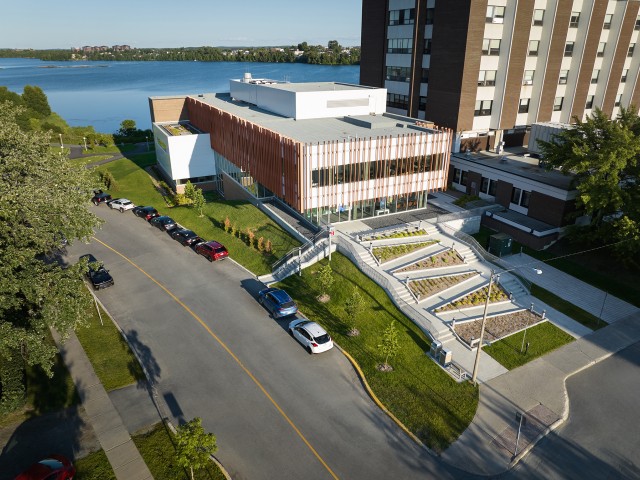 © Adrien Williams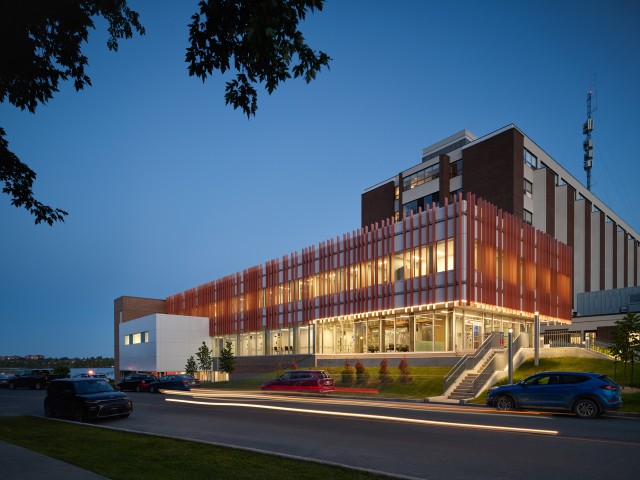 © Adrien Williams