REM station at the Montréal-Trudeau International Airport
Context
As part of the growth and vision for Montréal-Trudeau International Airport, Aéroports de Montréal's strategic plan includes the construction of the Metropolitan Express Network (REM) station, which will connect the airport to the city. The new REM station will be located under a new parking structure, 35 meters deep.
Collaborators

Saucier Perrotte architectes (concepteur signature)
Completion timeline (design and construction)
2017 — 2026
© JODOIN LAMARRE PRATTE ARCHITECTES / SAUCIER PERROTTE ARCHITECTES concepteur signature
"This project will allow YUL to shine internationally and join the network of major airports that benefit from a sustainable and efficient link to their city centre. Although the pandemic has forced us to postpone many construction projects, we remain more convinced than ever of the importance of connecting the REM network to our site for the benefit of our travellers, employees and the community."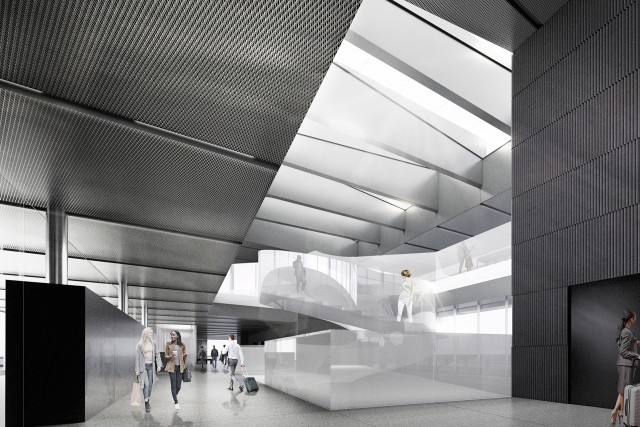 © JODOIN LAMARRE PRATTE ARCHITECTES / SAUCIER PERROTTE ARCHITECTES concepteur signature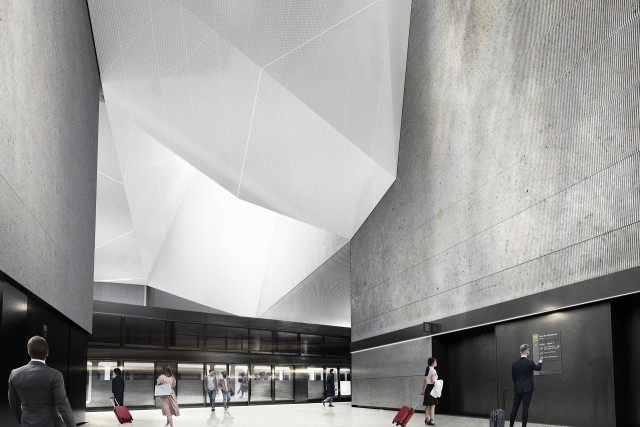 © JODOIN LAMARRE PRATTE ARCHITECTES / SAUCIER PERROTTE ARCHITECTES concepteur signature