Renovation of the Montreal metro's infrastructures
Context
The consortium GJB won the request for proposals sent by the Société de Transport de Montréal (STM) "Bureau de Projets Infrastructure Métro" (BPIM). The mandate's scope is to maintain the network's infrastructure by repairing architectural and structural elements as well as replacing electrical and mechanical pieces of equipment. There are two main components to the mandate : the "Réno-Infrastructure" program and the Berri-UQAM major renovation project.
Partners
GCBD
Bisson Fortin
Scale

$250 M

Completion

2012 — 2021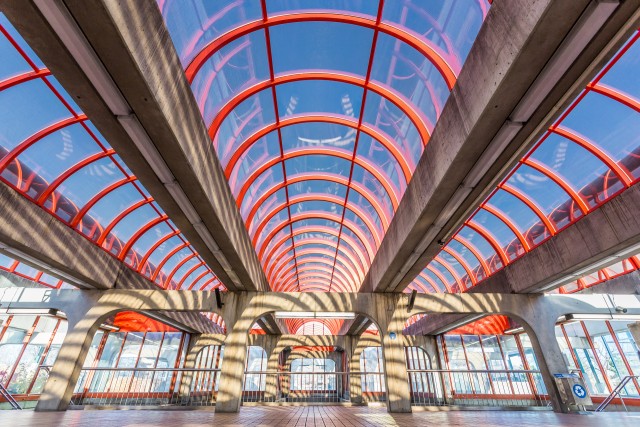 © Julien Perron-Gagné - Station Angrignon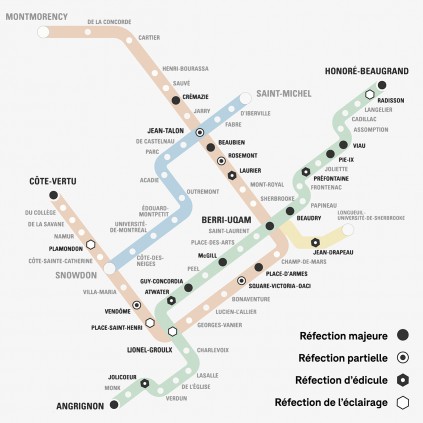 © Jodoin Lamarre Pratte architectes
The Montreal metro network is the largest in Canada and the 3rd largest in North America. It is made of 4 lines, divided in 68 stations, and accounts for 76 km of tunnels, 129 kiosks and 124 auxiliary structures. Inaugurated in 1966, and extended several times since, it is part of the Montreal urban heritage and transports more than a million passengers daily. To tackle the issue of ageing infrastructure, the STM launched a large renovation program called "Reno-Infrastructures" carried out in several phases.
Since 2012, BPIM has carried out repair, renovation and transformation work of various scales at many stations in the network, including Berri-UQAM, Beaubien, Radisson and Guy-Concordia, Honoré-Beaugrand, Jolicoeur, Vendôme, Jean-Drapeau, Beaudry, Crémazie, Angrignon, Place-Saint-Henri, Pie-IX, Laurier, Préfontaine, Place-d'Armes, Square-Victoria - ICAO, Lionel-Groulx, Viau, Plamondon and McGill.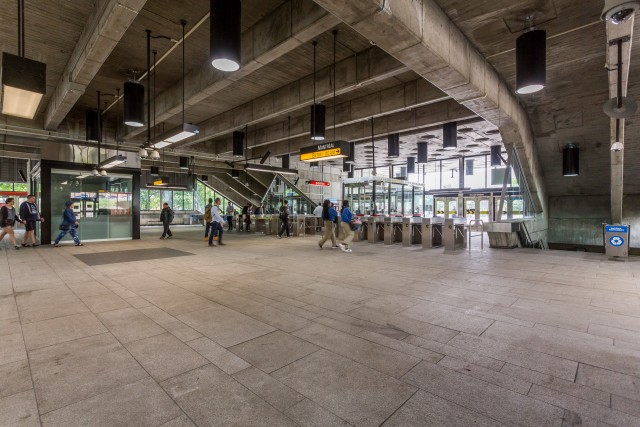 © Julien Perron-Gagné - Station Jean-Drapeau, nouvel accès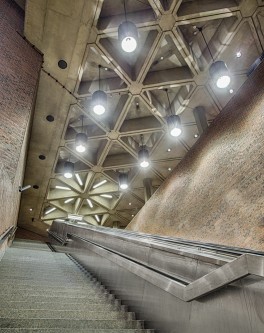 © Julien Perron-Gagné - Station Place-Saint-Henri après rénovation de l'éclairage
Some of these renovations are visible: creating new accesses, modernizing lighting and signage, integrating new elevators, repairing staircases or rebuilding entry kiosks. Some other works are happening backstage but remain nonetheless essential to the network's smooth operations: replacing waterproof membranes, expanding an attachment center or renovating ventilation systems.
Renovate with respect for heritage
The Montreal metro is characterized by the unique aspect of its stations, each having its own identity through a distinct architectural and artistic expression. It's with the preservation of this heritage in ming that the BPIM interventions were carried out. At Crémazie station for example, ceramic wall cover had to be completely redone. Ordering custom-made tiles wasn't possible within the available budget so our architects went the extra mile to find tiles that were as close as possible to the original design. The result is so seamless that one could think the wall covers were simply cleaned.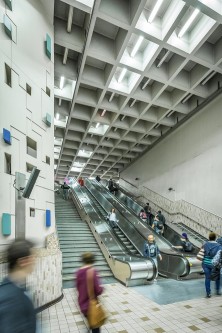 © Julien Perron-Gagné - Station Crémazie avant les travaux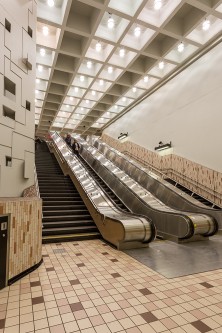 © Julien Perron-Gagné - Station Crémazie après les travaux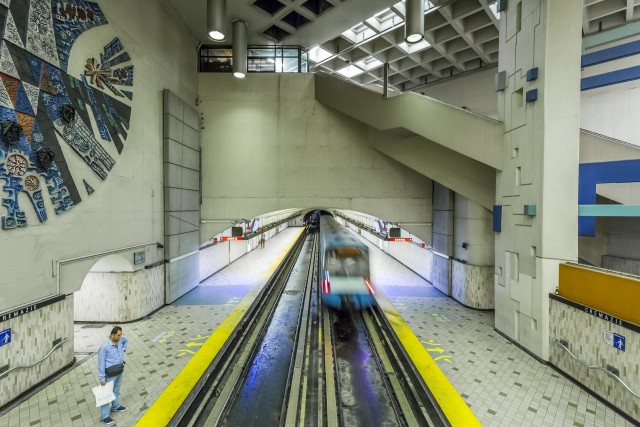 © Julien Perron-Gagné - Crémazie Station before restauration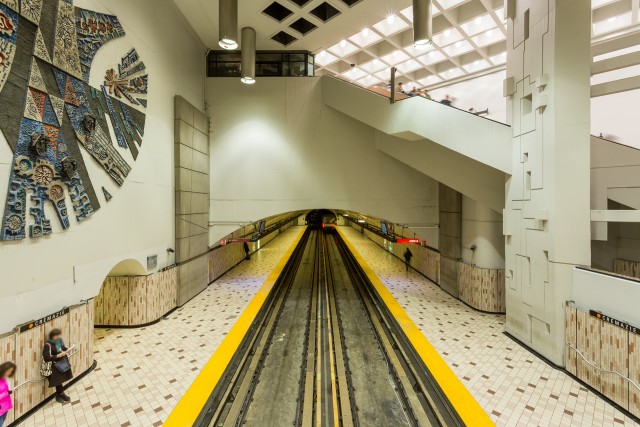 © Julien Perron-Gagné - Crémazie Station after restauration
Innovate to modernize the network
A part of people's daily life, the Montreal metro must evolve with the society it serves, and modernize to offer quality services that match all users' expectations. The Réno-Infrastructures program not only aims at repairg degraded assets, but also to improve facilities. To reach this second goal, the BPIM architects proposed innovative solutions to make the metro nicer and more functional. At Place-d'Armes station for example, a new accessibility ramp was developed and became a standard to install in other metro stations. The curtain wall onto Viger avenue was also modifies by removing concrete architectural element to maximize natural light in the station.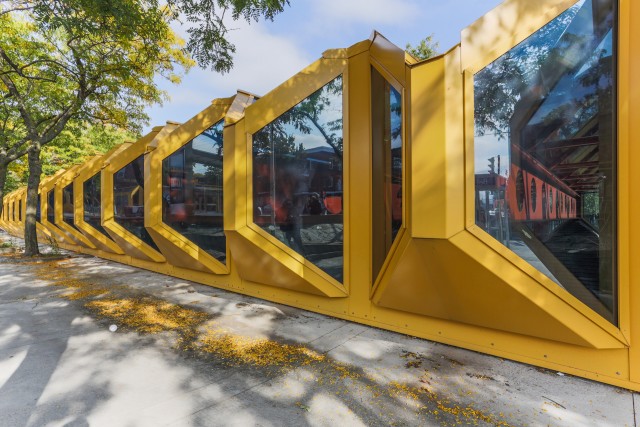 © Julien Perron-Gagné - Station Préfontaine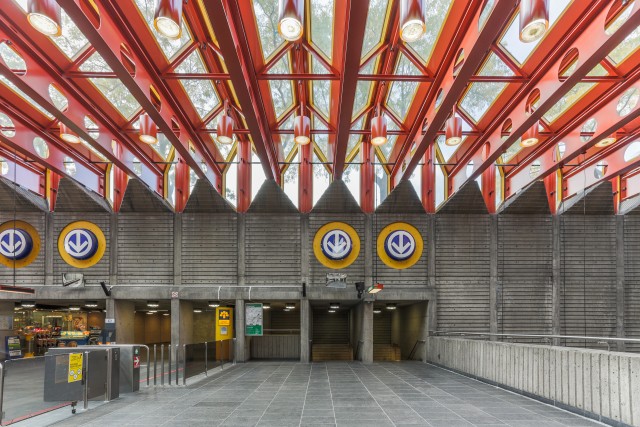 © Julien Perron-Gagné - Station Préfontaine
Expansion of the Viau attachment center
In addition to renovating the station and improving its accessibility, another less visible yet major project is under progress at Viau station: the expansion of the Viau attachment center, an underground center where tunnels and tracks maintenance vehicles are parked and fueled.
This expansion is a key project for the STM. By doubling the center's area, six additional convoys can be hosted, therefore improving maintenance capacity for the whole network. With a new loading dock and a higher-capacity lift, the center will also become an entry point for construction materials. Construction sites will be supplied faster, which will improve the speed at which renovation can be done. Electric charging stations will also be installed to allow for a larger number of clean energy vehicles in the network.
Above ground, a few elements testify of this underground transformation. The truck unloading dock, currently located within the main kiosk, will be removed and replaced by spaces for STM personnel. A new dock will be built behind the station. This new structure will be more discreet and much safer as trucks won't be crossing pedestrian paths anymore. Ventilation wells will be replaced and a new fuel filling station will be built. The BPIM imagined these structures' architecture with respect for the original design. Their angular geometry reminds that of the skylight and sets itself apart from the main kiosk which can reaffirm its public access function.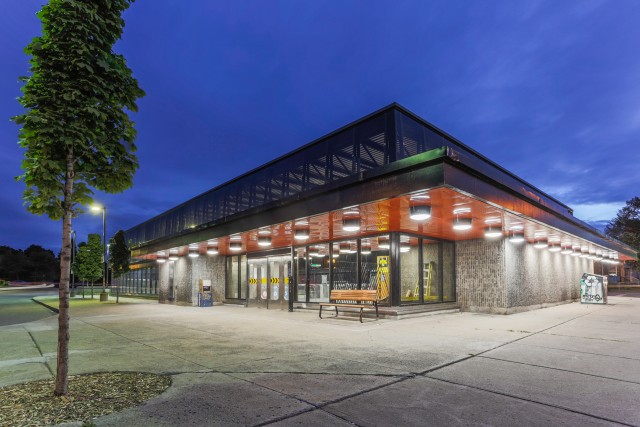 © Julien Perron-Gagné - Station Jolicoeur, réfection de l'édicule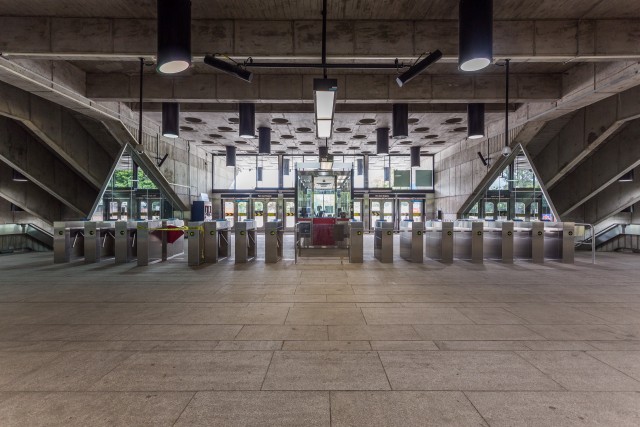 © Julien Perron-Gagné - Station Jean-Drapeau, réfection de l'édicule