Ruth and Saul Kaplan Pavilion at the Jewish General Hospital
Context
The Saul and Ruth Kaplan pavilion hosts the Center for Child Development and Mental Health for children age 3 to 15. It was conceived by Jodoin Lamarre Pratte architectes to consolidate the pediatric psychiatry unit, which used to be scattered throughout the Jewish General Hospital. This center offers a day program and an after-school program, as well as multidisciplinary specialized psychiatric services in a therapeutic environment with health professionals and specialized educators. The center also offers an outpatient program for children up to 15 years old, in which procedures include clinical, pedagogical, educational and shared care, to help children and their families by seeking long-term positive effects.
Scale

3 100 m² / 8,5 M$

Completion

2009 — 2010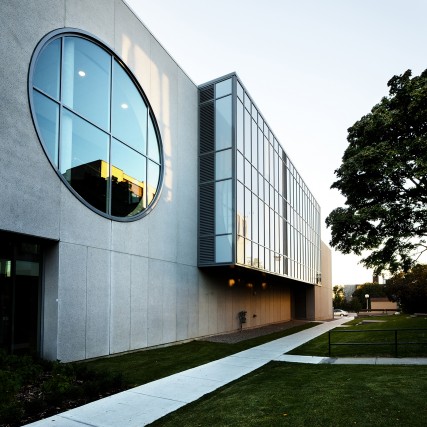 The new building is about 3110 m2 over three floors. The ground floor includes the day hospital, early childhood classrooms (age 3-6), changing rooms and the gymnasium. The first floor hosts the day and evening hospital and classrooms for children age 7 to 12. On the last floor are the outpatient clinics, the evaluation rooms as well as the consultation and examination rooms.

The project was conceived and built in fast-track over a short period of 11 months, without compromising its architectural quality. The tight delivery schedule required all the conception phases to overlap. For example, the site's excavation was already undergoing when the project's execution phase had barely started. This construction mode required constant adjustments from the conception team, since the design was developed in parallel with the construction. We established a rigorous and constant dialogue with the general contractor and his sub-contractors to ensure good integration of all of the project's aspects. It is to be noted that the City of Montreal Urban Planning department (M. Daniel Lafond) pointed out the building's careful integration to its urban and architectural context.