Théâtre Gilles-Vigneault
Context
The design of a 875-seat theater, erected near Place de la Gare in Saint-Jérôme, was the subject of a two-stage architectural competition launched in 2014. The first stage was aimed to select three potential firms based on written submissions, while the second consisted of submitting a complete concept including an estimate. The project developed by Atelier TAG + Jodoin Lamarre Pratte architectes was chosen following this process, and developed in collaboration with Diffusion En Scène, the manager and operator of the theatre, and the City of Saint-Jérôme.
Scale

3 540 m² / 21 M$

Completion

2014 — 2017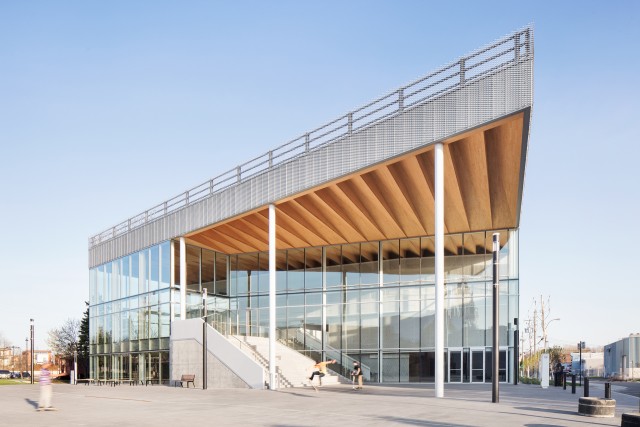 © Adrien Williams
The new theater is not only a gathering centre for the immediate community of the City of Saint-Jérôme but also a cultural and economic engine for the region by creating a unique place for the citizens and tourists, reflecting the dynamism in the performing arts of its broadcaster. The main architectural element of this 3,540 m²‒"vessel of wood and glass" is without a doubt the imposing wooden canopy of nearly 1,000 m² which covers the entrance and the hall of the theatre.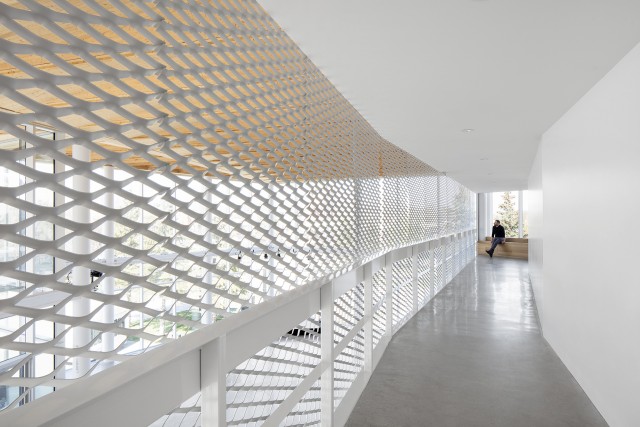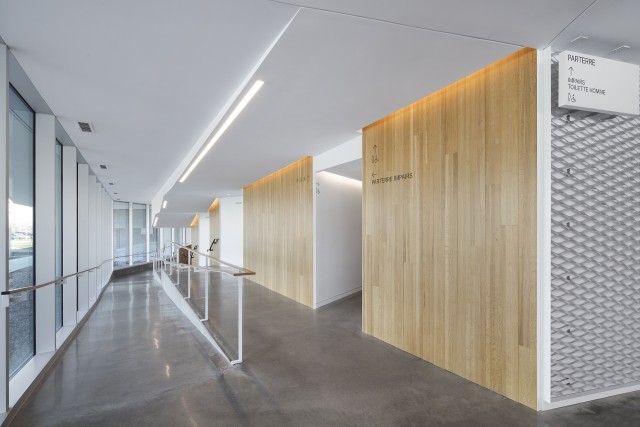 © Adrien Williams
"The innovative nature of this project and the research demonstrated to support the process is of the utmost interest to the jury. Its wood canopy generated by a structural origami provokes significant enthusiasm. As a whole, the sober architectural concept suggest that this work seeks to highlight the human activities within the spaces rather than be itself under the spotlight. This project integrates the social life of the community well as it interacts on all sides of the building. Its accessibility gives it a lively and inviting character."
―Saint-Jérôme Performance Hall Competition Jury
Excerpt from the jury's report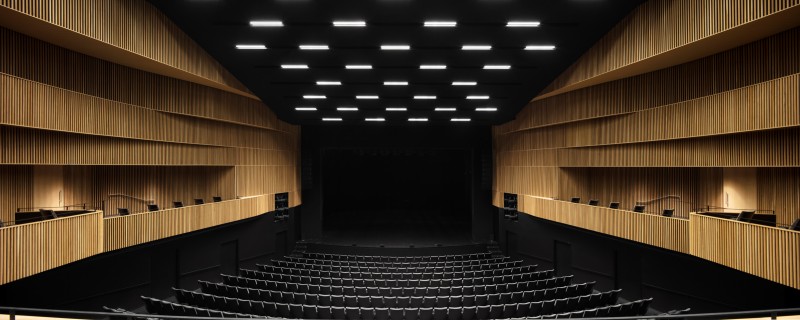 © Adrien Williams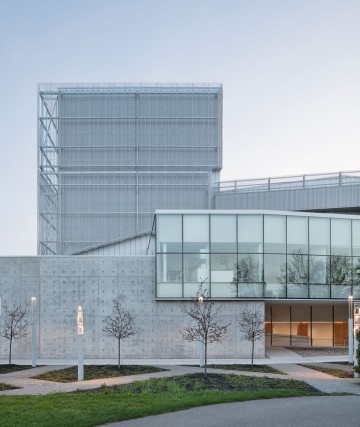 © Adrien Williams
The new theater features technologically advanced scenographic equipment and innovative sustainable strategies, including the use of local materials, the 20% increase in the insulation of the outdoor walls to improve energy efficiency, the integration of high-performance mechanical equipment enabling the recovery of energy, etc. One of the main concerns in sustainable development was the use of wood as a local and renewable material, so black spruce from Quebec was chosen for the construction of the imposing glulam/ cross-laminated timber canopy which overlooks the forecourt of the main entrance. The choice of this material was guided by three guidelines: to promote the use of an environmentally friendly material requiring little energy for its production and transport; to opt for a sustainable and readily available economic product that maximizes the use of available natural resources; and finally to find a balance between the structural characteristics of the material and its aesthetic qualities.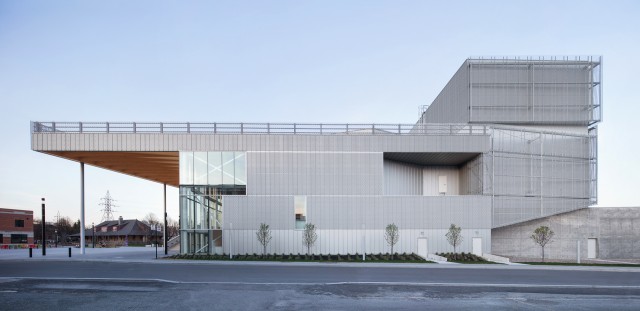 © Adrien Williams
"The architectural concept integrates itself seamlessly to the site and becomes an iconic project of great calibre. The valorisation of wood and the numerous sustainable strategies, such as the use of geothermal energy, are all strong elements of the proposed project."
―Diffusion En Scène
Organization responsible for regional distribution and owner-manager of the Théâtre Gilles-Vigneault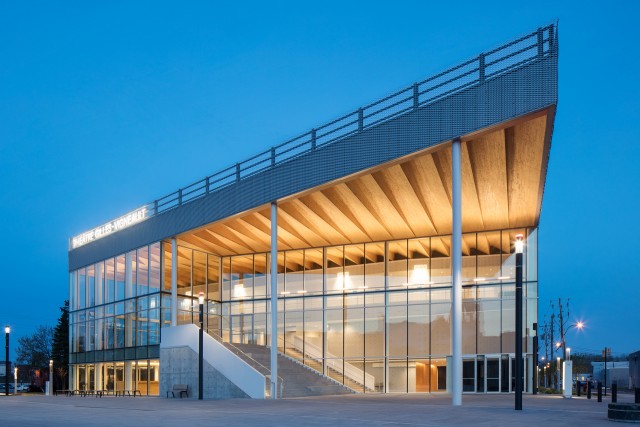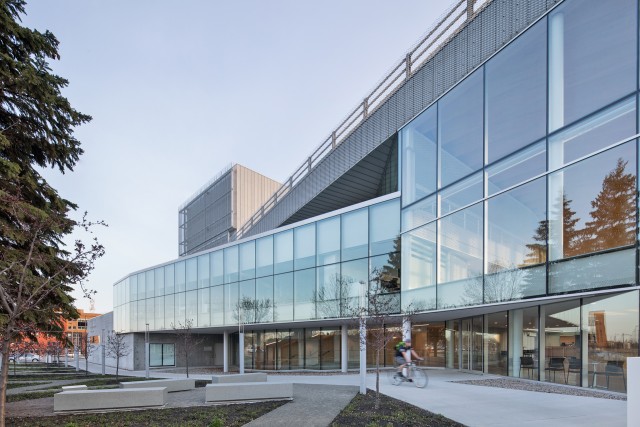 © Adrien Williams
"This rugged concert hall works to activate the downtown of Saint-Jérôme, Québec. Sectionally interesting, the complex exterior shows an industrial grittiness that attempts to grab hold symbolically and physically of its surroundings. A massive black spruce soffit protects the public in the forecourt, leading them inside to a lobby covered by the same canopy. The interior boasts a graceful concert hall clad skillfully in wood following an undulating pattern."
―Jury comments
Governor General's Medals in Architecture
Awards and Distinctions
« Scène écoresponsable — argent » Accreditation, Conseil québécois des évènements écoresponsables - 2021
Governor General's Medal for Excellence in Architecture - 2020
"Projet coup de cœur", 2019 AAPPQ Reference Manual - 2019
Cecobois Award of Excellence, finalist in the Commercial Building — less than 1000 m² category - 2019
Grand prix du design de Montréal, Prix établissement culturel - 2019
AERMQ Award of Excellence, category Institutional over 300K - 2018
Grands Prix du Génie-conseil québécois, first prize-winner building structure - 2018
Awards of Excellence for construction in steel (CISC), Young architects / engineers category - 2017
Awards of Excellence for construction in steel (CISC), Favorite Project Category - 2017
First prize-winner of the architectural design competition - 2014
Canadian Architect Award of Excellence - 2014