Tomlinson Square and Lorne M. Trottier Pavilion at McGill University
Context
The construction of the Lorne M. Trottier Pavilion consolidates the northeast flank of the McGill campus to fill the void between the Strathcona and Rutherford buildings. The outstanding feature of the project is its way of unifying the landscape, thanks to the development of Tomlinson Square. "The articulation of the architecture we walk on", to quote Ricardo L. Castro, favours the structure of the project by heightening the identity and experience of the site's existing components.
Localisation

Partenaires

Marosi Troy
Envergure

7 400 m² / 15 M$

Période de réalisation

2001 — 2003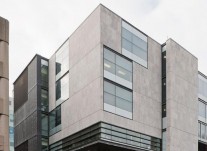 The noble architecture of the building is a testament to the institution's prestige and McGill University's progressive identity in the field of Information Technology. A play between stone, metal and glass confronts the cliché of immateriality of the virtual aesthetic. The tectonic layering of materials creates a visibly profound facade while maximizing the penetration of natural light into all of the interior work spaces.
Defined as a practical interstitial, the planning accepts and places value on the topography through a route of levels, ramps and terraces. The high-traffic walkway offers a tactile crescendo created by various textures. An alley of magnolias, a fountain, and gardened lawns characterize the long space. The fountain, as pièce de résistance, is a spatial element of the highest order.