Université de Montréal Campus in Laval
Context
This new university pavilion, the winner of a private-public partnership (PPP) competition, is the first university project to be built in the new district dedicated to higher education in the City of Laval. Located at the terminus of the subway line and adjacent to the AMT public transit terminal, the location of the building is ideal for students in the greater metropolitan area of Montreal.
Partners

Marosi Troy architectes
Giasson Farregut architectes
Scale

22 000 m² / 51 M$

Completion

2007 — 2012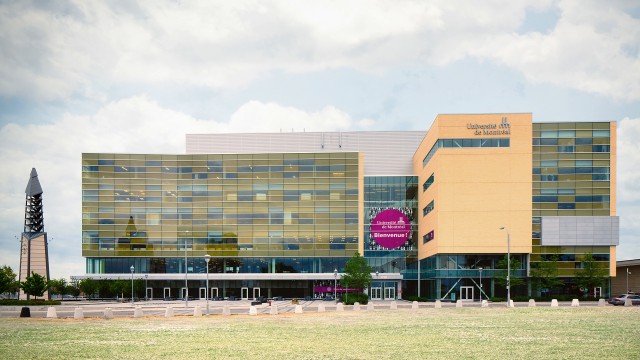 © Nicolas McComber
The new 6-floors 22,000 m² facility has been designed to house several departments and faculties. The program's major elements include classrooms, a cafeteria and student lounges, a library, computer labs, a nursing faculty with laboratories, a psychology department, arts and science workshops, administration and professor's offices and commercial spaces on the ground floor.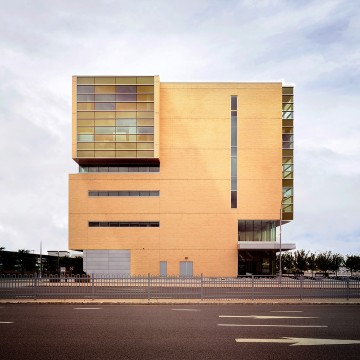 © Nicolas McComber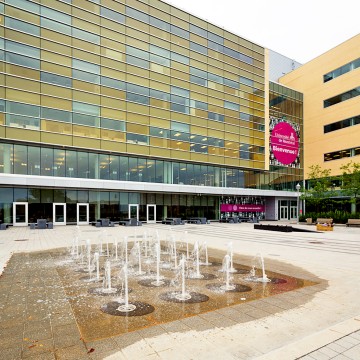 The program and concept of the 1,300 m² library have been developed in close collaboration with the university. This learning commons is a flexible, dynamic and stimulating environment in which all workstations are equipped with network access and power outlets for mobile devices. The university wanted to offer its clientele areas of relaxation and work allowing a great diversity of use and interactions, reflecting the interdisciplinary nature of the various academic programs.
The building envelope materials, composed of yellow ocher brick, zinc and glass, reinterprets the architectural language of the Montréal campus. The firm also completed several projects within the campus, including the design of the fittings and the choice of furniture.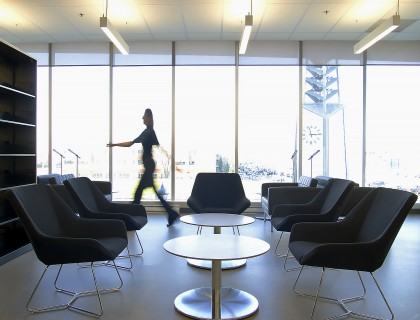 © Yien Chao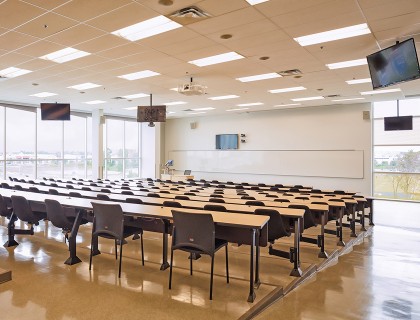 © Nicolas McComber
Developed in partnership with the City of Laval for the development of the new urban space, the project includes three underground parking levels as well as underground pedestrian and vehicular connections to the subway and to future educational, cultural and commercial buildings in the area.