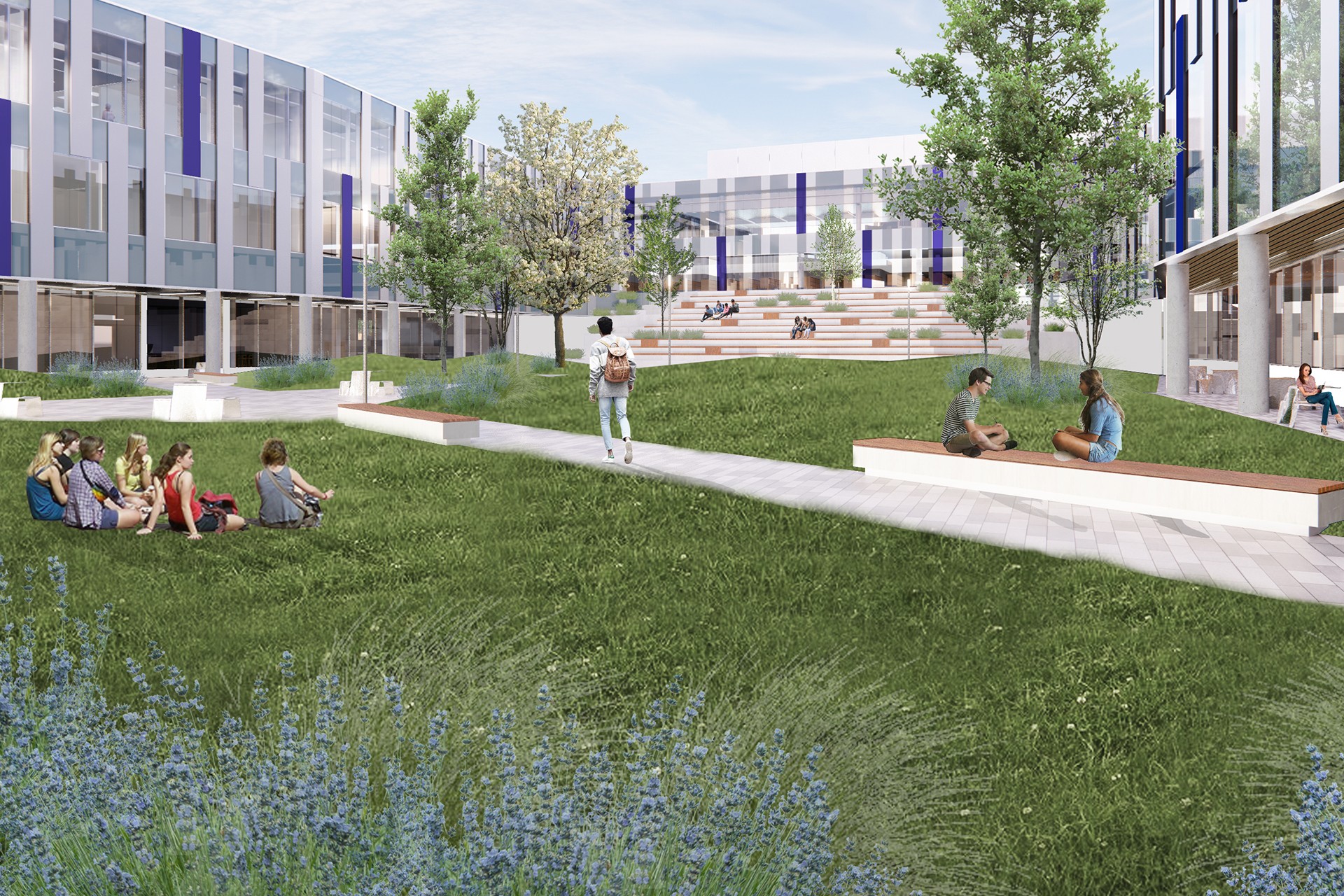 New mandates at St-Mary's Hospital Center and at Charles-Le Moyne hospital, and development of three building analysis for new secondary schools
June 29th 2022
A new pavilion to expand St-Mary's Hospital Center
Our firm has won, in consortium with Provencher Roy, the request for proposals from the Société québécoise des infrastructures (SQI) for the design of a new pavilion to expand St-Mary's Hospital Center. Spanning an estimated 24,435 m², the new construction will house three 30-bed short term care units, the endoscopy department, outpatient clinics, day medicine, research and teaching spaces as well as a daycare. Some remodeling will be done in the existing building to connect the new pavilion with the hospital and the emergency room, whose expansion and redevelopment was completed by our firm in 2017.
The project will address issues such as disrepair and lack of space and significantly improve service delivery by creating safe spaces adapted to modern care and treatment practices. It is also an opportunity to better segregate flows in order to prevent and control infections, and to reorganize vehicular access to ensure greater pedestrian safety.



Redevelopments at Charles-Le Moyne Hospital
Jodoin Lamarre Pratte architectes was commissioned by the CISSS de la Montérégie-Centre to design two successive redevelopments at the Charles-Le Moyne Hospital. The first project consists in relocating the Ambulatory Internal Medicine Clinic (CAMI) to premises closer to the hospital's other outpatient services and technical platforms, while the second project consists in creating a new short-term care unit with single rooms, for a total surface area of approximately 1,635 m².
The firm has an excellent knowledge of this hospital, having accompanied the institution in the development of numerous projects to adapt its real estate to the evolving healthcare needs of its population. Among other things, the firm has worked on the Montérégie Integrated Cancer Treatment Center, and the Expansion and Redevelopment of the Emergency Department. Our team is also currently taking part in the design of the new critical care pavilion above the emergency department and of an expansion of the existing medical imagery department.



Building analyses for three new secondary schools
The SQI has selected our firm, in consortium with Marosi Troy and in collaboration with Bouthillette Parizeau, SDK et associés and Marchand Houle et associés, to carry out three building analyses for the construction of new secondary schools within the jurisdictions of the centres de services des Mille-Îles, des Samares and des Grandes-Seigneuries. The plan is to build a new 1,024-student school in the Laurentians, an 828-student school in Lanaudière and a 1,000-student school in Montérégie.
On top of having an expertise in the development of building analyses and of mastering the most recent methodology and SQI's project management framework, our team is proud to contribute to the new generation of schools in Québec, with among others the design of the new Louis-Philippe-Paré secondary school in Châteauguay — a 38,000 m² building to be delivered in 2024.



Images : New Louis-Philippe-Paré secondary school in Châteauguay, Marosi Troy + Jodoin Lamarre Pratte + Labbé architectes en consortium